Polestar has revealed the new O2 concept as its glimpse into the future of the electric sports roadster.
Polestar has revealed the new O2 concept as its glimpse into the future of the electric sports roadster. The marque's line-up has so far been limited, but with the imminent launch of three new production models, and this new concept offering a glimpse at what's to come, it's clear that it's not slowing down.
Though there are currently no plans to put the model into production, the all-electric hard-top convertible will replace the Polestar 1 as the marque's halo model with an increased focus on sustainability and driving thrills. Details on its powertrain haven't been disclosed, but the O2 is built upon the same aluminium platform found in the upcoming Polestar 5 sedan.
Developed by Polestar's UK-based R&D team, chassis adaptations make for a 400mm reduction in wheelbase over the Polestar 5 with high rigidity and advanced damping keeping roll to a minimum. The result, says Polestar, is a 'lively' driving experience with 'predictability and playfulness' key to the experience.
Immediately after the reveal of the Polestar O2 concept, we spoke with Thomas Ingenlath, CEO of Polestar, about the importance of a halo car for a brand such as Polestar; "Very important. It works in two ways. On one hand it's an external very clear positioning of the brand making sure people have that perspective of what is in mind. On the other hand, it's an internal statement. Making the 02 Concept a public statement puts some pressure on our company to live up to that promise."
The exterior design takes strong influence from the striking Precept concept, combining its 2+2 cabin design with a low, wide stance, small overhangs and a long wheelbase. Being an EV, aerodynamics are also vital for maximising range and performance, and so Polestar has integrated discrete ducts throughout its design to improve laminar air flow and therefore efficiency – even the rear lights have an aerodynamic function, acting as air blades to reduce turbulence.
As with all of Polestar's models, the O2 has a strong focus on the use of sustainable materials. Inside, all soft materials are derived from recycled polyester, with a 'thermoplastic mono-material' utilised for other interior elements. Multiple grades of aluminium are also used throughout for improved performance and increased recyclability – components are even labelled with their grade of aluminium to streamline the recycling process.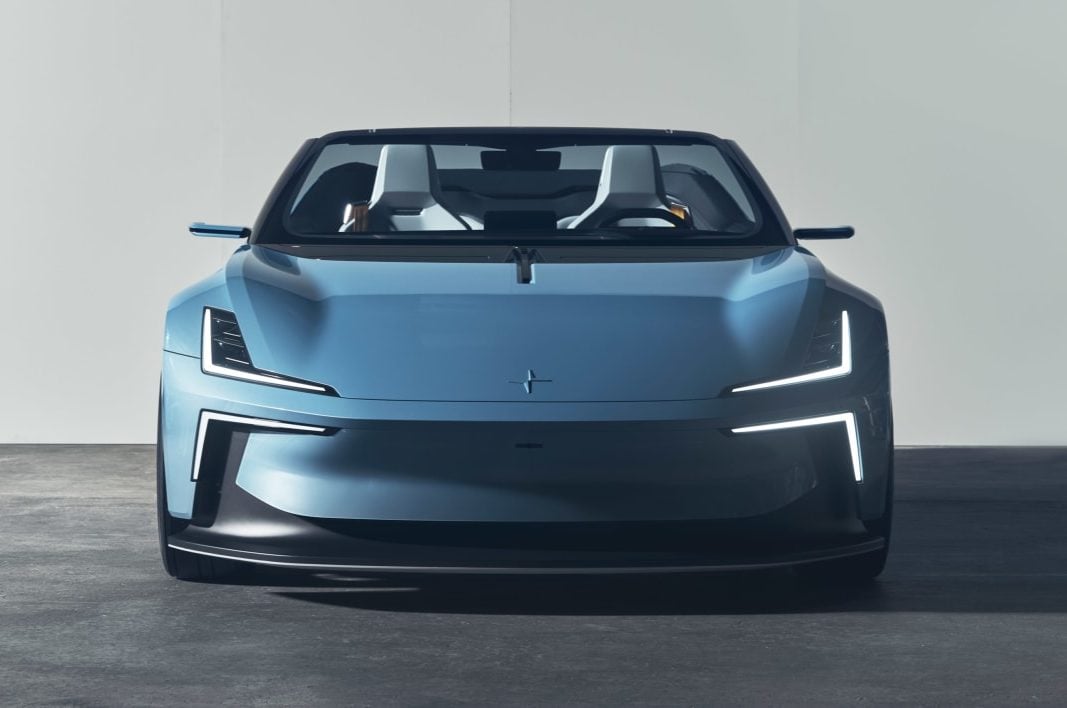 Though such a feature is unlikely to make it past the concept stage, Polestar has also equipped the O2 with an autonomous drone, designed to capture external footage of the car in motion at speeds of up to 90km/h. Developed in collaboration with Chinese consumer electronics brand Hoco Flow, the drone is launched from behind the rear seats and shielded by an aerofoil to provide a pocket of clean air during deployment.
Ingenlath told Automotive Daily that the O2's dramatic styling – which includes a deeply scalloped bonnet and pronounced, squared-off haunches over the rear wheels, is "realistic". "Our concept cars have the spirit of being tangible," he said. "From a packaging perspective, and how it is constructed, it is possible to put a car like the O2 into production.
"On the other hand, we have not put it into our business plan. We already have three cars for 2022, 23 and 24 in the books, and we are fully occupied with making those real. What is beyond 2025, the future will tell. We are putting out a dream here, with the O2, and we would be irresponsible if we would not make every effort possible to actually live our dreams and make them real."
Polestar claims it is possible to put the O2 into production, but with its efforts focussed on the upcoming 3, 4 and 5 models until 2024, CEO Thomas Ingenlath explains that the brand has no plans to do so just yet. "It is not in our product plan [and there's] no production intent, yet." Ingenlath leaves the 'yet' hanging in a way that gives us hope that the O2 will, indeed make production. After all, Polestar has form by taking the Precept Concept and developing it almost unchanged into the upcoming Polestar 5.
Jesse Taylor