Porsche's GT division is prepping the new 992 GT3 RS and our spy photographers have spotted it on track.
Now we've had the chance to get to know the new Porsche 992-gen GT3, we keep asking ourselves where the incoming 911 GT3 RS could possibly go to make it even more intense, engaging or exciting. Well, as we draw closer to its reveal, Porsche's GT department continues to strip-tease its new road racer, with these new images revealing more about exactly what we might expect to see when it's revealed next year.
Spied pounding around the 'Ring, this late-stage prototype is now running some production specification elements missing from previous sightings, with new centre-lock wheels, a possible production-spec bonnet, wing and bumper arrangement under their shrouds and a more stylised wing.
As with GT3 RS models since the 991.1, the new car looks to share a contemporary Turbo's wider rear haunches, albeit with the intakes masked away. Although the side-scoops are covered up, we can tell this uses the wider body both from the overall shape and the raised leading edge of the rear haunch leading up to the engine cover.
The front wings are both wider and ventilated like those of the 991 to help relieve air pressure in the front wheel arches, but now appear to finish foul of the front doors, suggesting it'll have some ventilation out from their leading edge as well as the top vent. The front bumper itself looks similar to those of other 992 GT3s, with a single central opening that then splits fast moving air straight into the front-mounted radiators, but there's also some clever air extraction happening as they reach the front wheel arch.
The bonnet on the other hand looks to have a completely different air management system to the one of the 991.2, switching from integrating two small air intakes in favour of big ventilation openings.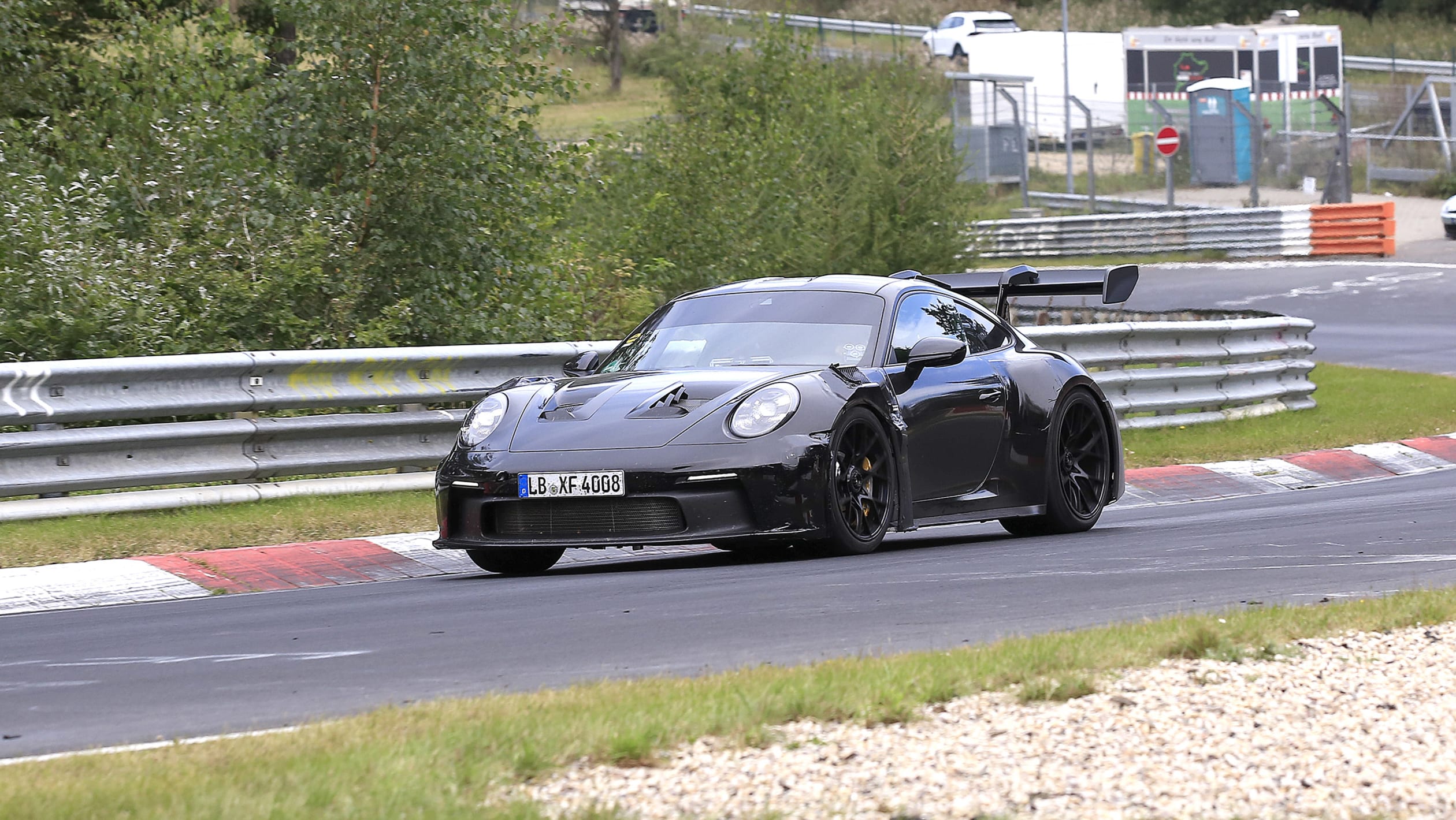 Something that's impossible to ignore is the huge rear wing, which is both bi-plane and top mounted. It's also massive, looking like a development from an RSR racer. The biggest shock however, is that it doesn't immediately appear to be any smaller as compared to those early prototypes, sitting above the roofline as if drawn in exaggerated form by an excitable six-year-old.
The wing's mounting point is also interesting, being significantly further forward than on previous GT3 models, leaving room for a completely segmented duck-tail that looks to have cooling vents on its underside. Like the main wing, this ducktail won't be production-specific, but it still does give us an idea as to the function that component should have on the production GT3 RS. The roof hasn't escaped Porsche's attention either with some odd-looking longitudinal vanes running along the latter-half of the roof panel, possible pre-conditioning the air before it hits the rear wing.
Other typical GT3 RS elements are obvious too, such as the centrally-mounted exhaust system sitting in amongst a rear diffuser, and the staggered 20/21-inch magnesium wheel and tyre package, in this case a new design we've not seen before on a production GT product. This prototype is also running Porsche's PCCB carbon ceramic brakes.
The GT3 RS's powertrain should retain the atmospheric flat-six engine and PDK combination of the 991, but specifically what engine and gearbox it features is as yet unknown. While the GT3 will probably offer a manual transmission, we suspect the heightened track focus of the RS will make it PDK only. Power should be subtly lifted over the current GT3 RS's 382kW.
This year has already been stacked with 992-generation 911 derivative launches, so we expect the RS to be revealed in 2022, alongside a raft of other exciting derivatives like the Safari and Sport Classic.​
Jordan Katsianis