Probably not quite at its full potential as a simpler, sweeter-handling fast GT car, but nearer the mark than it was. A very fast, capable, usable all-rounder worth considering.
A modern big Porsche with a bit more sporting soul. That was always the idea with the upper mid-range, GTS-badged version of the Panamera, which has just been revised as part of a wider facelift for the car. But somehow Porsche has always struggled somewhat with the GTS's particular execution; and that may help explain why a bit more commitment has been applied this time around, in an effort to finally give Panamera buyers who consider themselves genuinely keen drivers a reason to pick it.
Since the introduction of the original Panamera in 2009, most versions have had air suspension, four-wheel drive and an automatic transmission. That being the case, there are some obvious things you might do to bake in a bit of extra driver appeal for a special, extra-flavoursome version; and yet it's interesting to note how few of those things Porsche has yet deployed here. Contrary to what you might expect, the GTS has never had a strictly rear-driven chassis, steel coil suspension or a manual gearbox – although, funnily enough, other, cheaper versions of the Panamera did once have all of those things.
In previous years, Weissach did reach for a normally aspirated engine to produce some distinguishing driver appeal for previous versions of this car, of course. Four years ago, however, Porsche replaced the old 4.8-litre atmospheric version with a detuned 4.0-litre turbocharged replacement; and in doing so, perhaps it now feels that it made the GTS less of a proper GTS and more of a poor man's Turbo. Oh, to be that poor.
And so to the latest Panamera GTS, available as it is in both standard five-door liftback and Sport Turismo shooting brake body styles (the latter as tested), which has been moved ever-so-slightly off on a sporting tangent of its own once again. The car's 4.0-litre V8 turbo motor has been materially retained but, says Porsche, electronically retuned in order to produce the more linear style of delivery you'd expect of an atmospheric engine. Meanwhile a new sports exhaust with asymmetrically arranged silencers comes as standard which, it's claimed, makes for a bit more vocal charm than the old GTS had.
A power hike is never bad news for a car like this, and GTS duly gets one worth 14kW, with peak power being made 750rpm later in the rev range than in its predecessor. Peak torque is the same 620kW that the old GTS made, though; and interestingly, it's also available from 1800rpm, which is precisely where it used to be. Deduce from that what you will about whether lip service is being paid to the aforementioned impression of a naturally aspirated engine here, or whether a genuine attempt has been made. Or alternatively, just keep reading to find out.
Elsewhere, much as I imagine a great many cars will end up with rolling chassis specifications that mirror those of the pricier Turbo S very closely, the GTS needn't be quite so 'actively' clever in its suspension and steering systems as the new range-topper if you don't want it to be. While a Turbo S get's Porsche's latest four-wheel-steering, active anti-roll control and all-corner mechanical and electronic torque-vectoring systems all as standard, a GTS doesn't. There's an outside chance that might just make it a default pick for buyers a little unconvinced by the application and tuning of those particular systems, and their impact on driver appeal for the car. If you like your big GTs as simple and pure as you can get them, then, perhaps the GTS is intended just for you.
There's only part of the story to tell here because, on the launch of the new Panamera at Bilster Berg circuit in Germany, Porsche did as car-makers tend to do with their press demonstrators, providing a GTS with all of those optional active electronic systems fitted, as well as with optional carbon-ceramic brakes (steel discs come as standard). They will tell you also that a GTS rides 10mm lower to the ground on its air springs than a Turbo S in standard trim, but since the car's air suspension system is constantly adjusting ride height depending on speed and selected driving mode anyway (just as a Turbo S's does), there's probably little to materially set the GTS apart there either.
But the good news is that, in this tester's opinion at least, Porsche's active roll control and four-wheel steering systems are now sufficiently well-tuned as to be worth seeking out rather than avoiding; especially on a car of this size and weight. The retuning of those systems has been informed to a great extent by what Weissach learned during the development of the '992'-generation 911 but also (and perhaps more relevantly to the Panamera) the Taycan electric four-door, the Taycan having been based on a modified version of the Panamera's 'MSB' platform and using modified Panamera axles.
And the upshot is that the Panamera steers, rides and handles notably better than it did in pre-facelift form. It has an agility that belies its size and weight; but, as Porsches so often do, the car combines that keenness with linearity or response in its steering. It also rides with surprisingly good isolation and suppleness for an air suspended car.
All of that was true of the pre-facelift version, mind you. What the updated 2021-model-year car does, perhaps particularly effectively but not exclusively well in GTS form, is tighten up on close body control and vertical composure just a little bit. The car's mass is kept in a more consistent and assured sense of contact with the road surface over bigger bumps and crests taken at speed. A new layer of weight and feel is also apparent about the car's steering, which gives you the faith to probe a little bit at the limits of the potential of a chassis which would seem to have it all to do, and yet really doesn't seem to struggle to change direction, maintain level control and generate abundant grip and traction in an appealingly natural, really easy and plainly athletic way.
This car can be kept within the markings of a fairly narrow cross-country road so easily. It resists roll superbly well during harder and tighter cornering, but doesn't resort to clamping down on its outside contact patches to do so, and doesn't lose its first-rate balance of grip in the process. It's a big, fast, sophisticated modern car, but still a natural-feeling one to drive. If you want to take it easy, there is all the ride refinement of a luxury GT to enjoy in the right driving mode, but when you've got ground to make up quickly there is surprising precision, ever-ready poise and plenty of driver engagement to tap into.
That all goes for a car on the new Michelin Pilot Sport 4S tyres that Porsche has just homologated for the Panamera. The GTS' tyres have a slightly narrower section on the rear axle than those of the Turbo S and the forthcoming new Turbo S E-Hybrid; and if back-to-back circuit driving (which wasn't possible on the launch) proves that a factor in giving the GTS an even sweeter chassis balance at the limit than the Turbo S, I wouldn't be surprised. If you want even more dry weather grip and tactile feel from your car, however, there's now Michelin Cup 2 rubber on the Panamera's options list for the first time. It isn't exclusively available on the GTS and Turbo S, but you'd imagine those will be the derivatives with the greatest uptake.
And what of that recalibrated V8? Well, it's certainly got potency to spare during most road driving. It doesn't rip through the middle of the tacho on full power quite like the Turbo S's engine, making you think more about selecting the right gear for what you're about to do – which, if anything, probably only makes it more involving to interact with.
To me, it didn't feel like an 'atmo' V8 so much as a massaged turbo, although I liked the way it kept working until 6000rpm and beyond. I also reckon Porsche probably had room to make it noisier and fruitier-sounding still, without quite taking it to embarrassing levels. Because honestly if the GTS is more vocal than a Turbo S with the same exhaust I couldn't easily detect as much.
Those who want the quickest, most capable and easiest-to-drive Panamera should clearly pick the Turbo S, just as they might have picked a Turbo of the last generation. It's worth pointing out, after all, that you'll wipe out more than half of the saving you'd make by taking the GTS instead simply by selecting all of the equipment as cost options that the Turbo S gets as standard (and not just those active chassis and drivetrain systems but things like LED matrix headlights, Bose premium audio, a head-up display… the list goes on). And I suspect many GTS customers will do exactly that anyway.
On behalf of those who just want a simpler specification of performance GT, however, our opportunity to test a Panamera GTS, without all of those active systems, should come later this year. And it'd be a fascinating exercise to compare a bog-basic GTS with an all-singing-and-dancing Turbo S, to find out just how cleverly tuned those two steering axles and active anti-roll bars really are. Maybe we'll do it. Because much as I can understand any natural scepticism of the associated operating complexity, and the fear of progressive handling manners being incrementally engineered out of modern performance cars, my hunch is that you'll end up liking the 'active' specification Panamera more than you might expect to.
And aside from all that, whether you're drawn to the Porsche Panamera GTS because of what it has got or because of what it hasn't, my other hunch is you'll like it a lot. It has most of the usable pace and poise of a Turbo S, after all, and a showroom price that's perhaps marginally less likely to cause a sharp intake of breath. And while that may not be quite the selling point that was intended for it, it's still a pretty compelling one.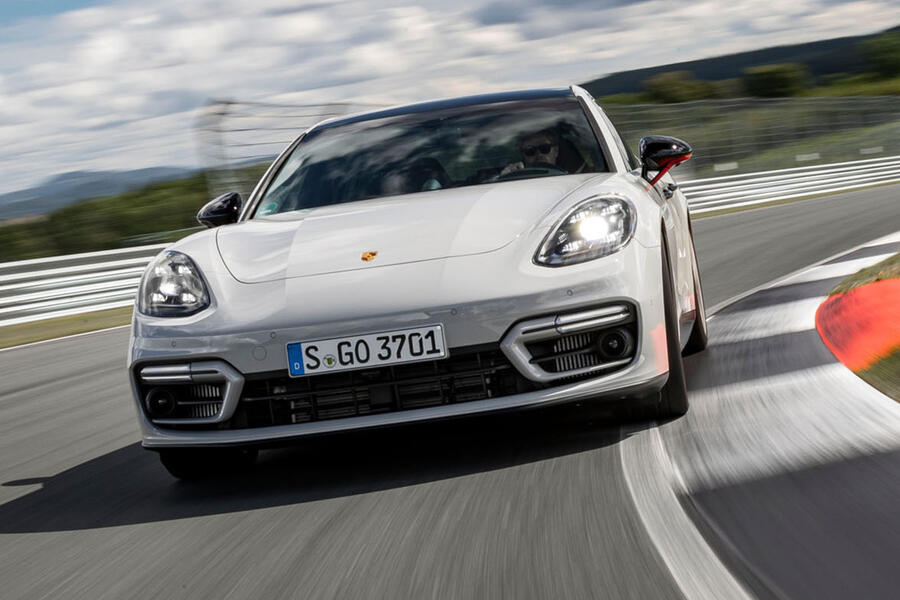 Panamera GTS Sport Turismo 
Price: $316,800 plus on-road costs  Engine: V8, 3996cc, twin-turbocharged, petrol  Transmission: 8-speed twin-clutch automatic  Power: 353kW at 6500rpm  Torque: 620Nm at 1800-4000rpm Driveline layout: front-engine, all-wheel drive w/ rear eLSD 0-100km/h: 3.9sec  Top speed: 292km/h  Kerb weight: 2040kg  Fuel economy:  25.9-25.4mpg CO2: 253-248g/km  Rivals: BMW 8 Series M850i, Mercedes-AMG CLS 53