The Spectre is the first production EV from Rolls-Royce and it'll launch next year.
Rolls-Royce is currently testing the new, fully-electric Spectre coupe. This is a 'third pillar' of the brand, says the luxury car maker, to sit alongside the Cullinan SUV and Phantom flagship.
The Spectre has already been subjected to temperatures as low as minus 40 degrees centigrade during its winter testing period in Sweden, but it now looks like the luxury EV is being honed for the public road. A scheduled launch for the Spectre is expected in late 2023.
We've already been driven around (or chauffeured, if you prefer) in the new Spectre in its prototype form this summer and Rolls-Royce engineers were in agreement that it rode too firmly – although we didn't have any complaints.
This test phase at the Nurburgring doesn't suggest the Spectre will aim to be a sporty driver's car; it's far more likely Rolls-Royce is using this time to refine the comfort levels even further as part of the Spectre's goal of reaching 2.5 million kilometres of testing.
While the Spectre prototype in this batch of spy shots is still heavily camouflaged, it does reveal a few details about the car's design. For a start, it's riding very high for a coupe, with its adjustable air suspension possibly in its highest, most comfortable setting.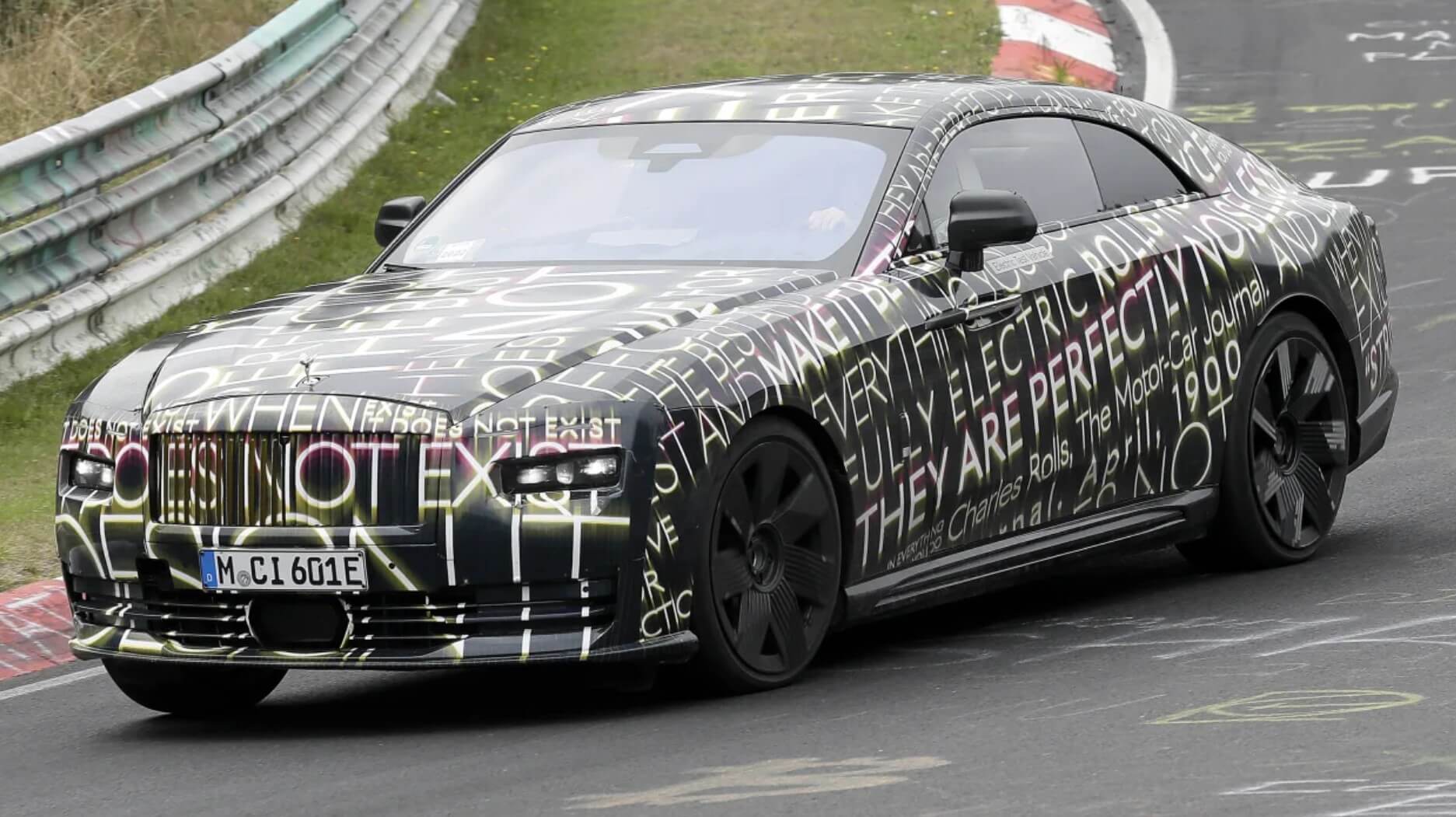 These spies also offer our first look at the Spectre's rear end, which seems to follow the same design conventions as Rolls-Royce's petrol-powered coupe, the Wraith. The rear window features a similar rake and the tail lights appear to be of a similar design and placement, atop the top rear wings.
It's the same story up front. The resemblance to the Wraith is still clear, although there are some subtle differences, such as a new (and slightly shallower) grille and a headlamp placement that's a little lower on the car's face, with the bonnet sloping more than other Rolls-Royce cars. There's a redesigned door handle at the A-pillar, too, which allows for the brand's trademark suicide doors.
The Spectre rides on an adapted version of the brand's aluminium spaceframe Architecture of Luxury platform, dubbed Rolls-Royce 3.0. It's the most technologically advanced iteration of the platform yet, with more than 6km of wiring compared to just over 1.5km of cabling in its internal combustion engined models. Interestingly, a selection of specially designed wiring channels has allowed engineers to utilise the battery pack and electrics as sound-deadening.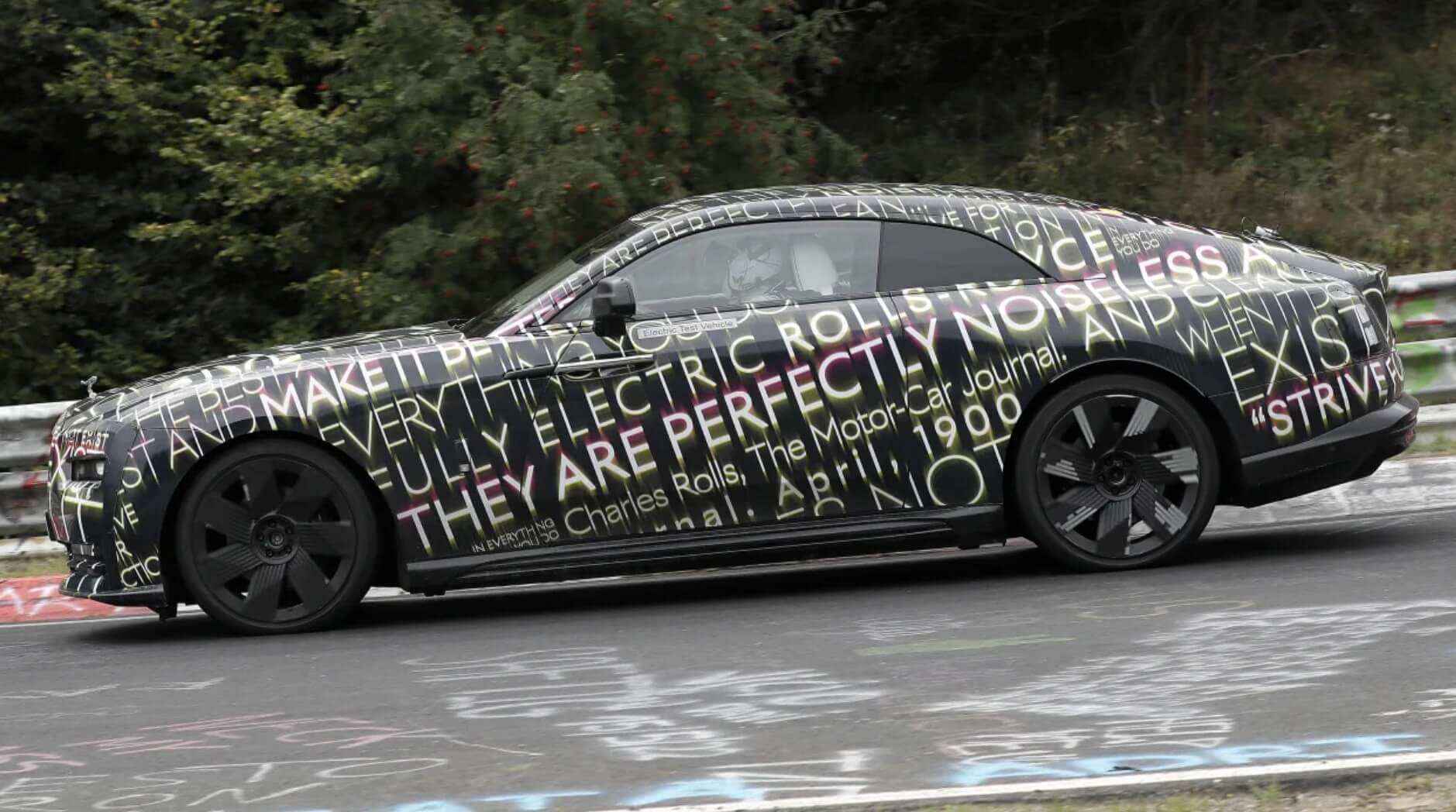 Rolls-Royce claims the Spectre's torsional rigidity is more than 30 per cent greater than that of the Ghost. The battery will weigh 700kg on its own and it will be the largest in the BMW Group, so that means it has to have more than the 105kWh usable capacity of the iX SUV – this could mean a power rating over the iX M60's 460kW.
Rolls-Royce Motors CEO Torsten Muller-Otvos has previously said: "Free of any group platform sharing strategy, we were able to integrate our plans for an electric powertrain into the architecture's initial design." However, while the platform is of Rolls-Royce's own hand, it could still integrate BMW-designed electric motors.
"We embark on this bold new future with a huge advantage," continues the Rolls-Royce boss. "Electric drive is uniquely and perfectly suited to Rolls-Royce Motor Cars, more so than any other automotive brand. It is silent, refined and creates torque almost instantly, going on to generate tremendous power. This is what we at Rolls-Royce call 'waftability.'"
Rolls-Royce has designed the Spectre as a spiritual successor to the Phantom Coupe, sharing similar dimensions to the current flagship saloon. It'll be fitted with 23-inch alloy wheels – the largest of any coupe on sale – and Rolls-Royce promises a hunkered down seating position and a cocooned cabin. The brand's Spirit of Ecstasy mascot has been aerodynamically optimised, too, with an overall drag coefficient of 0.26.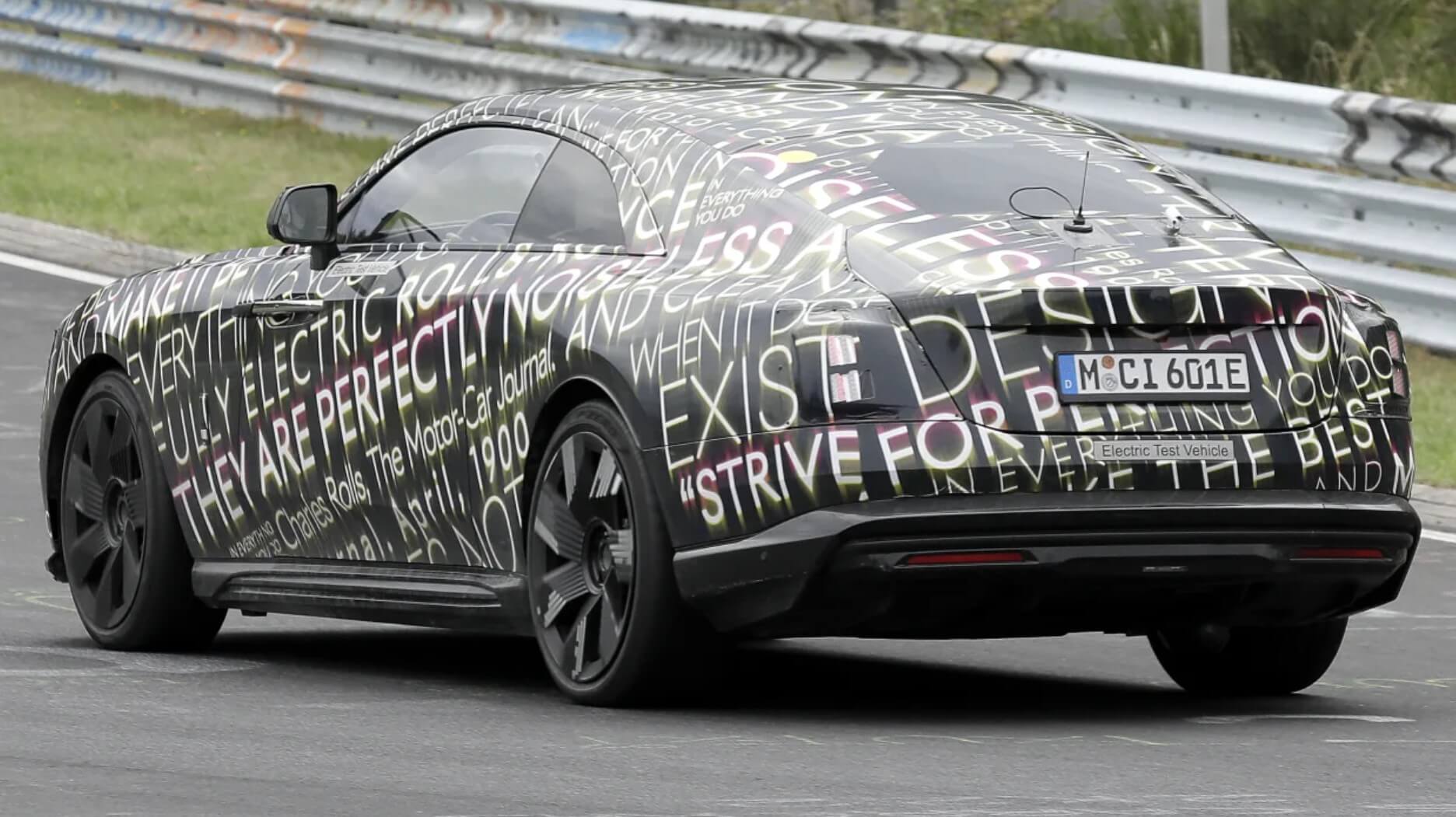 Despite still being in its development phase, Rolls-Royce is already touting the importance of the new Spectre. Rolls-Royce is committed to becoming fully-electric by 2030, and the firm's CEO Torsten Muller-Otvos previously called the start of the car's public test programme "the most significant day in the history of Rolls-Royce Motor Cars since 4 May 1904" – the day the company was founded.
Rolls-Royce has experimented with full electrification on its own vehicles before; more than a decade ago, the firm launched an all-electric concept called 102EX at the Geneva Motor Show. It is said to have showcased the vehicle in a number of private clinics with regular customers, but Rolls has always claimed that the car was never intended for production.
Five years ago Rolls revealed the 103EX, a radical all-electric model designed to showcase future trends in styling, autonomous technology and luxury materials. That car also went on a global tour, but returned to Rolls's Goodwood base in 2019.
Moving back to the present, Rolls-Royce says the name "Spectre" was chosen with zero-emissions motoring in mind. "Spectre is a name given to otherworldly beings synonymous with great power and apparition; creatures of an alternative realm that make their presence felt through fleeting manifestation," the brand explains.
The company continued with: "This name perfectly matches the extraordinary Rolls-Royce that we are announcing today – a motor car that makes its presence felt before disappearing into a world inaccessible to all but the very few. As a quintessentially British brand, we have selected the British spelling, however the meaning is universal."
The Spectre will arrive in 2023, with first customer deliveries scheduled for the final quarter of next year.

Alastair Crooks