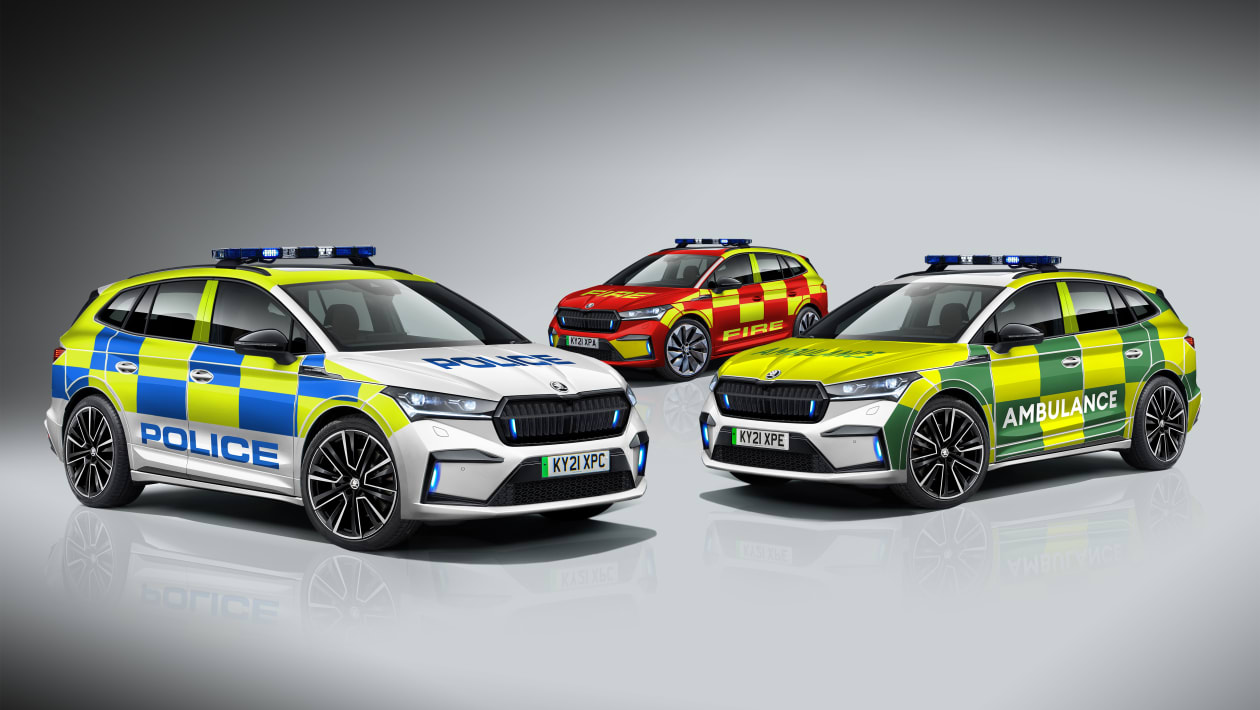 Skoda has expanded its line-up of blue-light vehicles with an emergency response version of the new pure-electric Enyaq iV SUV.
It's the first electric vehicle Skoda has ever offered to the emergency services, so the Czech brand has made sure to cover all the bases. As such, the Enyaq iV can be equipped for police, fire and ambulance service duties as a first response unit.
Like the recently launched Octavia Scout first response vehicle, the Enyaq can be specified with all the necessary equipment for each emergency service through Skoda's "One Stop Shop" service. Options include battenberg decals, strobe lights, sirens and radios.
Skoda has even integrated the controls for the lights, sirens and communication platform into the Enyaq's existing infotainment system, which trims back some of the switchgear normally found on the dashboard of a traditional emergency vehicle.
At 585 litres, the Enyaq's boot should be big enough to carry all the necessary equipment for any emergency service team. Storage space expands to 1,710 litres with all the seats folded flat, which Skoda says is more than enough to transport life-saving emergency equipment, such as ventilators and oxygen tanks.
For now, the Enyaq first response vehicle is only available with a 150kW and 310Nm rear mounted electric motor drivetrain, which Skoda says is enough for a 0–100km/h time of 8.5 seconds and a top speed of 160km/h.
There's a choice of either a 62kWh or 82kWh nominal battery pack, the larger of which offers a maximum range of 535 kilometres on a full charge. When connected to a DC rapid charger, the larger cell will also take on an 80 percent charge in around 38 minutes.
Skoda says that as the Enyaq iV's powertrain has fewer perishable components and moving parts and than a petrol-engined patrol car, it won't need to be serviced as often. That means the cars can stay on the road longer, which increases the efficiency of the fleet.
Luke Wilkinson