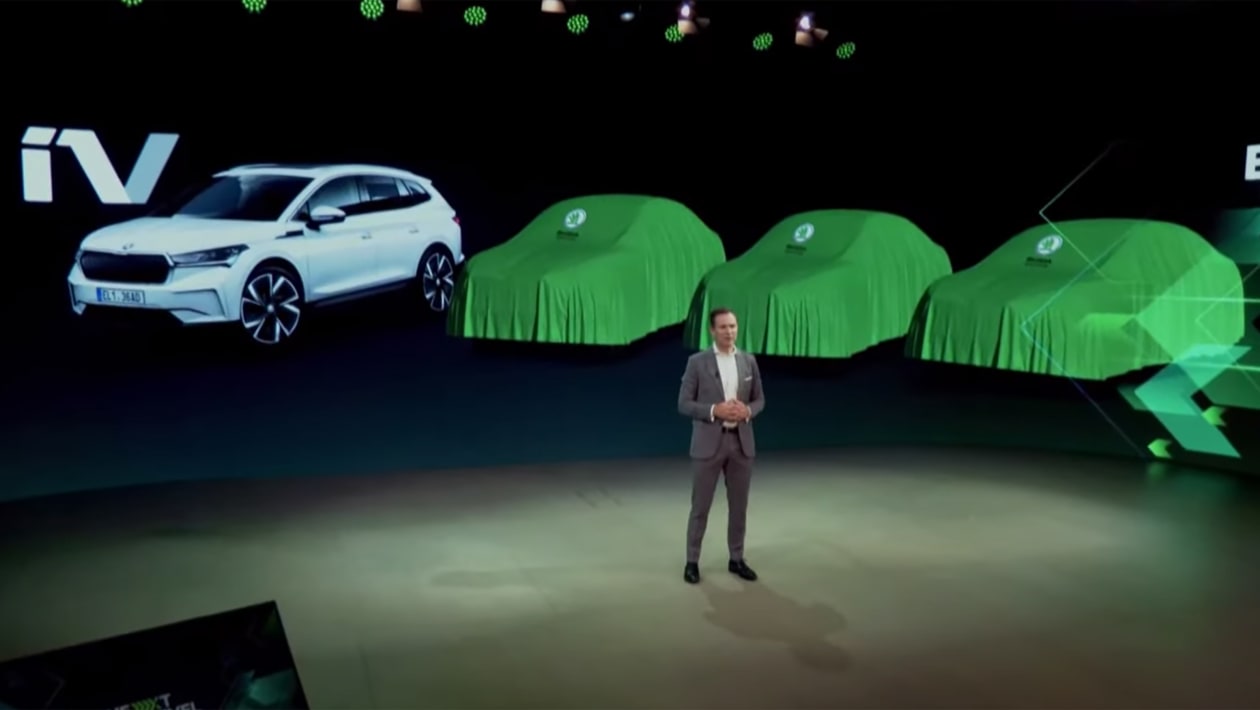 Skoda has laid out its product strategy for the next decade, confirming it will launch three new electric cars by 2030.
The company has released precious few details about its new EVs, but Skoda's CEO Thomas Schäfer has said that all three will be smaller and cheaper than the Enyaq.
What's more, by targeting affordable electric cars, Skoda also hopes to capture between 50 and 70 percent of the market by 2030.
Schäfer's statement was illustrated by a teaser image, which showed three cars under wraps.
Earlier this year, Skoda filed a trademark for the "Elroq" nameplate, possibly pointing to a small electric SUV similar in size to the Karoq.The remaining two model names should also start with an "E," as Skoda carves out its naming convention for its EVs.
All three EVs should also be based on a version of the Volkswagen Group's MEB platform, some possibly on the MEB Entry platform being developed for supermini sized electric cars.
One thing that's fairly certain is that Skoda won't make compromises on interior quality. The company has said it plans to cut complexity in its fleet by 40 percent in the medium term, but these efficiencies will be made by removing some customisation options.
Schäfer commented: "The reality is that, over the last decade, we have become extremely complicated. We have allowed ourselves the luxury of having – I think it was about 16 different steering wheels in an Octavia.
And you really have to say why. Why is that necessary? Our customers do not appreciate this. It's a myth to believe that this will sell more cars or make our customers more happy – it's nonsense.
"So we went through model by model and looked at the options, and found we'd rather give a little bit more to the customer by condensing it and putting it into packages. And the Enyaq sort of paved the way when we launched it, when we had our design selections.
"Optimisation is our daily bread. We look at it carefully every day, but with the focus of not making it cheaper. With the focus of giving more customer value."
Skoda also released a few more details about its wider product strategy. Like Volvo and Polestar, Skoda plans to cut its CO2 emissions over the next decade. The firm is targeting a 50 percent reduction across its fleet compared to 2020, although Skoda has not yet decided on a date when it will stop producing combustion-engined cars.
Manufacturing methods will also be updated to lower CO2 emissions, with Skoda's Czech and Indian facilities targeting net-zero carbon emissions from 2030 onwards.
Skoda will also move its sales system online, shifting away from traditional dealerships to a smartphone application in which buyers can specify and order their new vehicles.
The system has already been introduced in the Czech Republic, the Netherlands, Belgium and Poland – and it has shown so much promise that Skoda has set itself the goal of selling one in five new cars digitally by 2025.
Luke Wilkinson