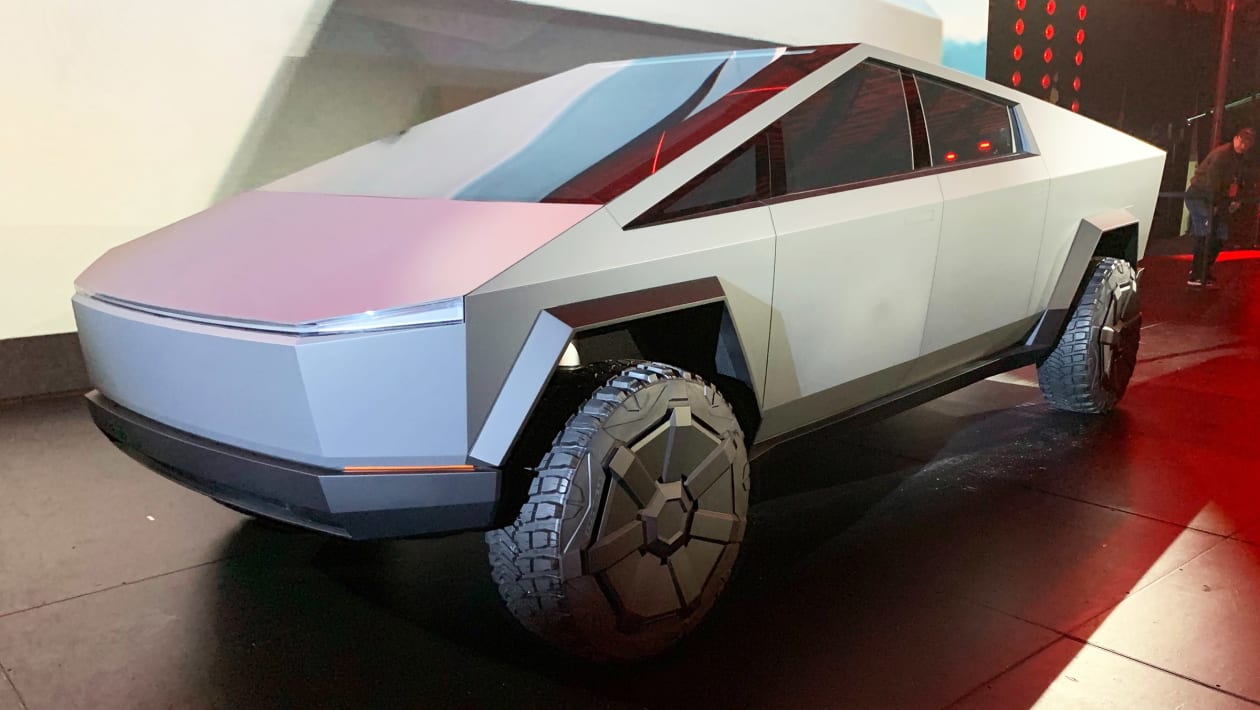 Tesla has announced that the Cybertruck will not enter production this year as originally planned.
The electric pick-up won't go on sale until 2022, with the company's online configurator confirming the delay.
During the conference for its Q2 2021 financial results, a Tesla spokesperson said: "We are making progress on the industrialization of Cybertruck, which is currently planned for Austin production subsequent to Model Y." Company bosses didn't fix a precise date for the start of Cybertruck production, though.
Shortly after the event, the brand updated its online Cybertruck configurator to confirm the vehicle would enter production sometime during 2022. The pick-up is still available to pre-order, with a refundable deposit of $100 (around AUD$137).
The delay is unlikely to affect customers outside of America, however, as it remains doubtful that the Cybertruck will make it to many external markets . This is partly due to market appetites for six-metre-long pick-up trucks, and partly due to stringent EU type-approval regulations, with the Cybertruck's size and angular profile likely to present problems for passing pedestrian impact assessments in particular.
Speaking during a Q&A session at the company annual Battery Day conference last year, Tesla boss Elon Musk said that while orders for the Cybertruck are "gigantic" at well over half a million, the vehicle may not make it past regulators outside the United States. Despite this, he still predicted a production capacity of "at least 250,000 to 300,000 a year – maybe more."
"We are designing the Cybertruck to meet the American spec," Musk said, "because if you try to design a car to meet the superset of all global requirements, basically, you can't make the Cybertruck. It's impossible."
It looks increasingly likely that the full-size Cybertruck will be a US-only model, which may not be a hindrance to its commercial viability as America is the world's biggest market for large pick-up trucks. However, Musk mentioned that Tesla is also considering building a smaller version of the Cybertruck to suit countries with smaller roads.
"We'll probably make an international version of Cybertruck that will be kinda smaller, kind of like a tight Wolverine package", Musk said. However, he provided no further details of what he meant by "Wolverine," which was a reference to one of the heavy-lifting robots at Tesla's factory in Fremont California, named after the X-Men character.
Musk promised any international Cybertruck that may emerge will "still be cool," adding: "But it'll be smaller, because you just can't make a giant truck like that for most markets."
Tesla Cybertruck: prices, specs and release date
The all-new Tesla Cybertruck is an angular, stainless-steel-bodied utility vehicle with bulletproof glass and a claimed maximum towing capacity in excess of six tonnes. Prices will start from the equivalent of $54,500 when it goes on sale in 2022 in the US.
Following the pick-up's launch, Musk announced on Twitter that more than 250,000 customers had placed orders for the new model. Then he released a video showing the Tesla Cybertruck pulling a Ford F150, America's best-selling pick-up truck, that's caused some controversy online.
Despite looking like a prop from a sci-fi movie, Musk says the Cybertruck will do everything the most popular US market pick-ups can do. He claimed that it can carry a payload of up to 1,587kg and tow up to 6,350kg. It also comes with a lockable, 2,832-litre load bed which can carry items up to 1,981mm long.
Musk promises the pick-up will be handy off-road, too. It has 406mm of ground clearance, an approach angle of 35 degrees and a departure angle of 28 degrees – which is better than the current Ford F-150. A range of new traction control settings, designed to simulate mechanical locking differentials, is also promised.
Tesla Cybertruck: performance and range
The range-topping Tesla Cybertruck will be priced from AUD$102,000 in the US and will feature a tri-motor, all-wheel drive powertrain and a large battery pack adapted from the Model X SUV. Tesla says it'll have enough power for a 0–100km/h time of 2.9 seconds and a top speed of 210km/h, while its maximum range will stand at 800 kilometres
Entry-level, Single Motor, rear-wheel drive Cybertrucks will be priced from US$39,900 (roughly AUD$51,000) and have a claimed 0–100km/h time of 6.5 seconds and a top speed of 180km/h. However, they'll be fitted with smaller battery packs than the flagship model, meaning they'll only be able to cover 400 kilometres between charges and tow up to 3,402kg.
Sitting between the two extremes will be a Dual Motor, all-wheel drive model that's priced from US$49,900 (around AUD$75,000). It will offer a claimed range of "more than 480 kilometres," a 0–100km/h time of 4.5 seconds and a maximum towing capacity of 4,536kg.
Tesla Cybertruck: chassis, platform and toughness
Like the Tesla Model X, the Cybertruck rides on air suspension which allows the rear of the pick-up to be lowered to make loading and unloading easier. The truck is also fitted with a retractable ramp, which was demonstrated with a rebadged and rebodied Yamaha all-terrain vehicle driving across the stage and into the bed.
There's still a considerable amount of conjecture over the Cybertruck's angular design, with many publications remaining doubtful over whether it will pass the pedestrian safety aspect of US crash regulations.
However, Musk claims the Cybertruck will be the toughest pick-up on the market, thanks to a body made of ultra-hard 30X cold-rolled stainless steel. Tesla's design boss, Franz von Holzhausen, demonstrated the strength of the pick-up's body by attempting to dent one of its doors with a sledgehammer.
The Cybertruck will also be fitted with Tesla Armour Glass – an ultra-strong polymer-layered composite, which Elon Musk described as "transparent metal." Its on-stage demonstration didn't go as smoothly as the bodywork's though as, when Holzhausen threw a heavy metal ball at the pick-up's front and rear door glass, both windows cracked. Musk admitted to the crowd that there was "room for improvement."
And, as with all US-market pick-ups, the Tesla Cybertruck is big. It measures 5,885mm in length, 2,027mm wide and 1905mm high, which makes it around the same size as the Supercab version of North America's current best-seller, the Ford F-150.
Tesla Cybertruck: interior design
Inside, there are two rows of three seats, with the centre-front seat folding flat to make an armrest. As is usual for Tesla models, the dash features just a single 17-inch landscape touchscreen, which sits on top of a marble-effect panel stretching the entire width of the truck, with no other visible controls.
In place of a steering wheel in the Cybertruck is a Yoke, also seen on the forthcoming Tesla Roadster, and the current Tesla Model S Plaid. The truck's rear-view mirror is a screen, rather than a conventional glass unit, which uses a feed from a high-definition camera in the tailgate, while the glass roof extends back over the rear passengers, who get a view of the steel-clad load bed.
Luke Wilkinson