All-new Tesla Model 2 hatchback will debut new battery and motor technology, and be the brand's cheapest car by a considerable margin.
The 1984 Motorola DynaTac, which is generally recognised as the world's first commercially available mobile phone, cost $17,638 in today's money. Yet it's now possible to get a far more compact and powerful mobile for less than $50, and even the fanciest smartphones are available for about a tenth of the price of that pioneering device. In short, technology gets cheaper over time.
And that's great news if you'd like to own a Tesla but think they're currently a bit pricey. After making its name with bigger, more expensive models, the US brand is working on a Tesla Model 2 hatchback that should be one of the cheapest electric cars yet; expect it to cost from about $50,000 to compete in a market with EVs such as the MG 4.
Early design sketches shown during a recent Tesla investor event revealed the model to have a high bonnet line, a squat roof and wheels pushed out to the corners in a bid to maximise interior space. Indeed, in some respects the Model 2 should be even more practical than today's Tesla Model 3 sedan; in place of that model's narrow boot opening, the Model 2 has a hatch, making it easier to load and unload bulky items.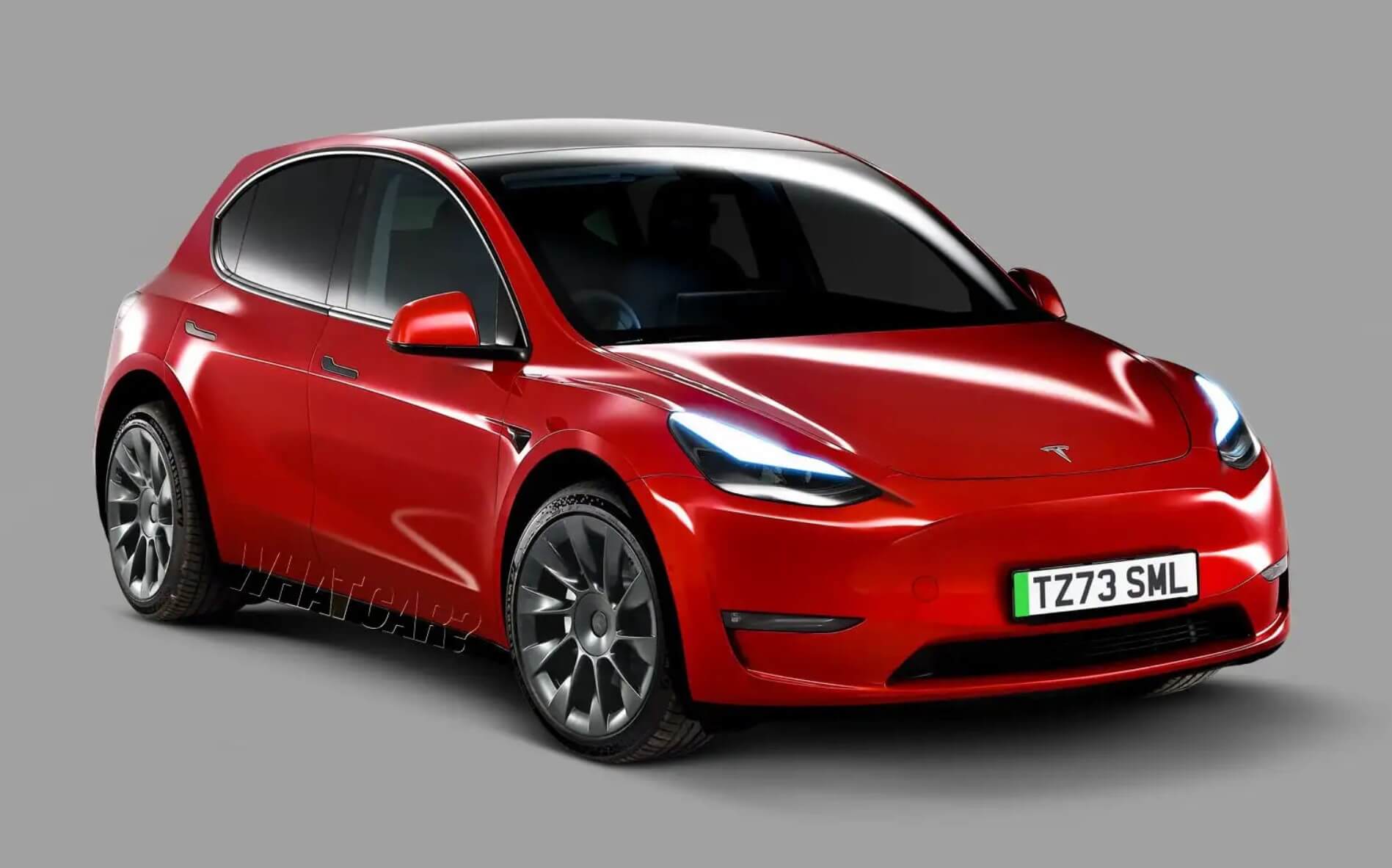 As for the interior, you can expect there to be space for five, and for almost every function to be controlled through the same 15.4-inch landscape-orientated touchscreen that features in the Model 3 and Model Y. Our experience with this system suggests it will take some getting used to for new Tesla drivers (there's no instrument cluster, so even your speed is shown on the central screen), but it reacts quickly to inputs. It also features apps such as Netflix for entertainment as you charge.
While its full technical specifications are still under wraps, we do know that the Model 2 will make use of a new generation of electric motors that don't use any rare earth metals in their construction. The cost of acquiring such materials is a major factor that contributes towards the cost of current electric cars. However, don't expect those motors to be any less powerful than those used by today's Teslas.
The entry-level Model 2 will have a single motor driving the front wheels, and this version will have the aforementioned headline-grabbing price tag. However, it will be joined by more expensive dual-motor, all-wheel-drive variants, including a Performance model to crown the range.
The Model 2's battery will also be new and more efficient than the brand's current batteries, using technology that's claimed to enable up to 16% more range per kilowatt hour. In theory, that means a battery that's half the capacity of the 60kWh unit used in the Model 3 could take the Model 2 around 290km between charges.
Of course, Model 2 owners will also get access to Tesla's Supercharger network of ultra-fast chargers. There are currently 50 of these across Australia, and many more so-called 'destination' chargers at hotels, restaurants and resorts.
Getting a Model 3 from 10-80% takes 27 minutes using the Supercharger network, and this is likely to fall to as little as 15 minutes in the Model 2.
The full suite of Tesla driving aids will be available on the Model 2, including systems to allow the car to control its own position within a lane on the freeway, as well as its speed, plus the ability to change lanes automatically, where this is legal.
The Model 2 should be offered with the same four-year, 80,000km warranty as the Model 3, with the battery and electric motor covered for up to 192,000km, depending on which version you go for.
The Model 2 will also be among the first Teslas to be built in a new, more streamlined manner, and the brand is massively ramping up its battery production in order to keep up with the expected high demand.
At the other end of its range, Tesla is currently working on replacements for the Tesla Model S sedan and Tesla Model X SUV. Plus, it still intends to introduce a pick-up truck based on the 2019 Cybertruck concept. However, plans to launch a new Tesla Roadster sports car have apparently been shelved.