We run down the very best affordable electric cars on sale today.
Electric cars have certainly been a long time in rising to prominence, but this looks like the year they finally hit the big time. And why wouldn't they? An electric vehicle (EV) lets you travel in silence and produces zero emissions.
As the range between mains charges increases and the charging infrastructure improves, an EV becomes a more viable alternative to petrol- or diesel-fuelled models almost by the month. Choice has been slow to grow so far, but is set to mushroom in 2020-21 as debutant EVs from Mini, Honda, Peugeot and others begin to debut.
Having first appeared around ten years ago, the market's first EVs were cars with around 120km of usable range, priced at a 50 per cent premium over their petrol-fuelled counterparts. Today, in many cases, real-world range has more than doubled.
This is a list of our top ten affordable electric cars compiled considering factors such as range and usability, driving dynamics and value for money. Some are still subject to relatively high prices compared to combustion-engined cars, but their premiums can be offset against lower running costs.
Best Affordable Electric Cars in 2020
1. Hyundai Ioniq
This small-medium electric hatchback blends practicality, value and affordability; in the Ioniq range, it joins the hybrid and plug-in hybrid variants.
Underneath all three versions is the same platform that underpins the Kia Niro. There's plenty of high-strength steel to help rigidity, along with aluminium panels and other componentry to reduce weight. The all-electric version does without independent multi-link rear suspension, despite costing nearly $48,970.
As it's more compact, Hyundai has been able to shoehorn in a larger battery pack without sacrificing too much boot space. Indeed, the 38.2kWh lithium-ion cells have enough juice to give the Ioniq a maximum potential range of 311km.
With 100kW, the Electric may be the least powerful Ioniq, but it is, nevertheless, the fastest. A substantial 295Nm of torque from rest and no pauses to change gear result in a 0-100km/h time that just squeaks under 10 seconds.
2. Hyundai Kona Electric
Until quite recently, an electric car good enough to combine a genuine 400km daily-use range with a $60k price point seemed an awfully long way off. The Hyundai Kona Electric made it a reality only a couple of years ago, however; quite a coup for its aspiring Korean maker.
By wielding what must be a sizable competitive advantage on battery buying power, Hyundai has delivered this car to the road with a sizable advantage on onboard electrical storage than plenty of the car's it's rivalled by in this list. That's enough for more than 400km on the highway or around 480km at a slightly slower clip or around town. And, in this car, it comes packaged with much stronger accelerative performance than its nearest rivals. The Kona Electric is quick enough, even, to live with some hot hatchbacks away from the traffic lights.
That the car's slightly low-rent, restrictive interior doesn't make it quite the match of a full-sized family hatchback on practicality is a bit of a disappointment. Also, there's some frustration to be found in the car's ride and handling, which both feel somewhat compromised by its weight and the low-friction tyres it uses. But if you want outright range for a small outlay, this is probably still where to get it.
3. Mini Electric
Mini has been a long time preparing to enter the electric car market; but now that it finally has, it has certainly brought all of the fun factor you expect of the brand – albeit packaged with a few equally typical usability restrictions.
Based exclusively on the three-door Mini bodyshell, the Mini Electric adopts the powertrain from the BMW i3S, giving it a very healthy 135kW and 270Nm of torque. Performance is notably stronger than many of the cars you might compare it with in this list, while handling is grippy and darty and agile in the enduring dynamic traditions of the Mini brand.
Range is the catch. Mini claims 230km; in reality, depending on how and where you drive it, you're more likely to get between 160 to 200km. And that's in a car with a pretty small boot, whose back seats are tricky to access and little use for anyone but younger kids in any case.
This clearly isn't a 'one-size-fits-all' sort of electric offering, but it's priced surprisingly competitively and, if its limitations aren't bothersome to you, could be the very car to show you how rewarding electric motoring can be.
4. Nissan Leaf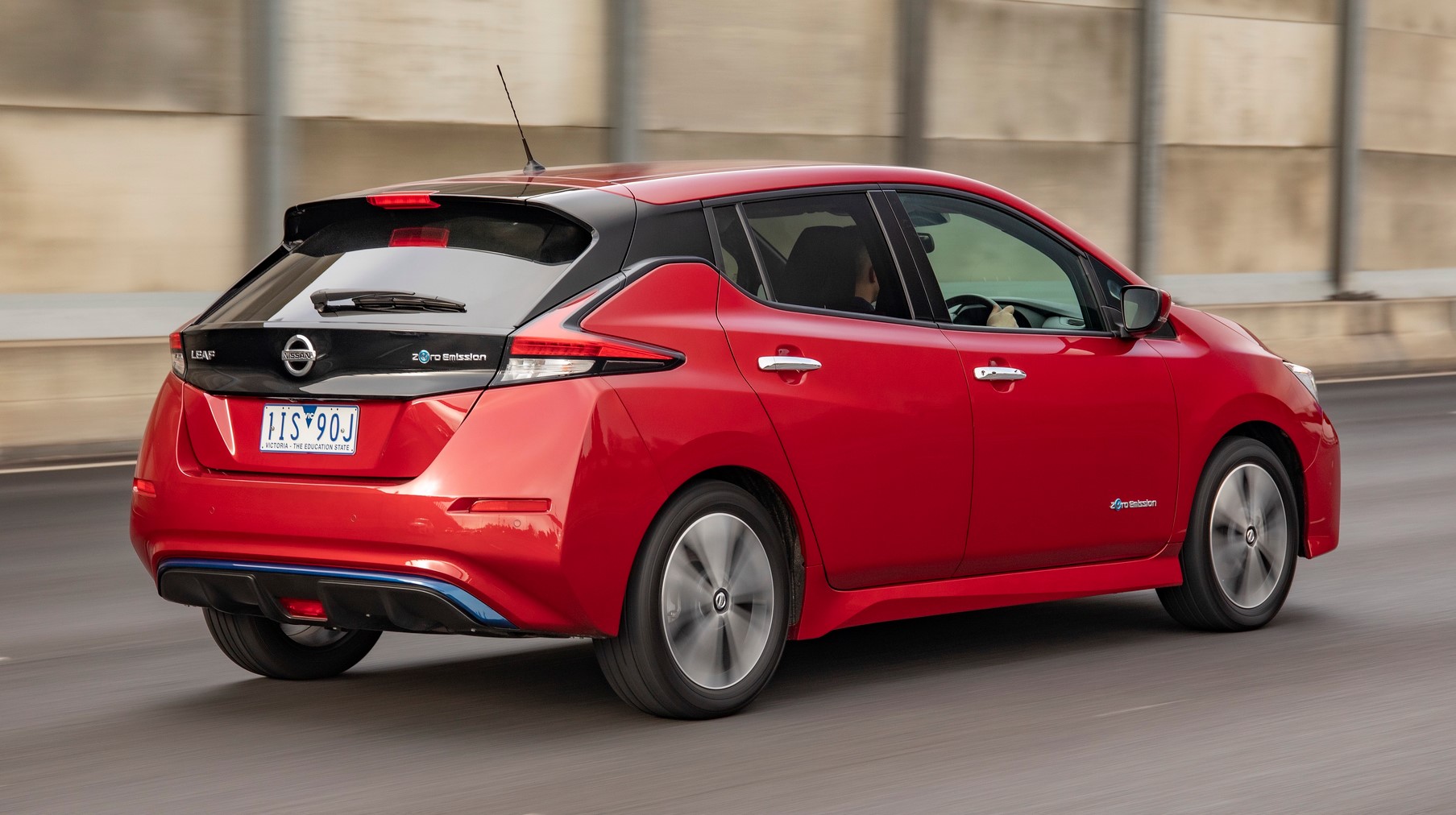 The Nissan Leaf, in first-generation form, set the mould for the affordable electric car approaching a decade ago – and in new second-generation form, it's still right in amongst the list of contenders who are following in its tread marks.
Having had a 25 per cent boost on battery capacity, the Nissan now leads some of its rivals with a WLTP-certified range of 270km – rising to more than 320 in the case of the range-topping 64kWh 'e+' version that has now been confirmed to arrive in Australia. It's also got significantly more power and torque than its direct predecessor; performs fairly keenly; feels like a more rounded car to drive generally; and has one of the strongest showings here on daily-use practicality for a small family.
It's our default recommendation for anyone looking to simply replace their fossil-fuelled family hatchback with an electric one well-capable of doing the same job – and doing it well.
…And one we wish was available in Australia: Honda E
Honda has taken a leftfield approach with its first all-electric car, the Honda E supermini – which is unusually compact for an electric car, and innovative in several ways. A rear-mounted motor promises packaging efficiency (although the car itself fails a little to follow through with it) while all-independent suspension heralds the ride and handling sophistication of a bigger car (which the car does a deal better to actually supply).
The car's available in 100kW and 114kW forms, but neither has quite the battery capacity of rivals: 35.5kWh 'gross' is all you get here, which makes for claimed WLTP range of 220km maximum (with the car rolling on 16-inch wheels). In testing, we struggled to get much more than 160km from our 17-inch-equipped test car.
To drive, the Honda E feels plush, composed and easy to operate, with medium-paced steering but a tight turning circle, and moderate but responsive performance. It doesn't excite and doesn't offer the last word in background body control; but it would make a relaxing city car, and its alternative styling should also do much to recommend it.