The refreshed Jaguar F-Pace, which includes a new plug-in hybrid variant and an overhauled interior, hints at the design of a future generation of Jaguar models.
Jaguar exterior design boss Adam Hatton said: "We've had a good era [of design] from 2013's F-Type and a generation of cars that came from that. This F-Pace refresh is a step towards what we're talking about for the future."
The most pronounced exterior tweaks are slimmer LED headlights and tail-lights, new bumpers, a reprofiled bonnet and a larger grille with a diamond mesh design.
However, the F-Pace's cabin is where the most attention has been paid. As interior design chief Alister Whelan put it: "When the interior [of the outgoing F-Pace] came out, it was a good interior but not a great interior. We really needed to take it to the next level."
Whelan cited three key criticisms of the interior from customer feedback: too many hard plastics, limited storage and the infotainment system, all of which the brand believes it has addressed here.
"There are no scratchy plastics in this car anywhere," said Whelan. Alongside better-quality trim, the F-Pace adopts the I-Pace's steering wheel and luxury headrests from Range Rovers. "The comfort of this interior [versus the old car's] is chalk and cheese," said Whelan.
There is more room in the centre console for both the cupholders and, with no manual gearbox to intrude on space, a new, lower stowage section.
The infotainment system is the most dramatic difference. Using the Pivi Pro system first seen in the new Defender, the F-Pace introduces a tablet-like 11.4-inch curved touchscreen not yet seen in other models. Other new tech includes over-the-air updates, wireless charging and cabin air ionisation.
Six powertrains are available and all employ all-wheel drive and an eight-speed automatic gearbox. The highlight is the new P400e plug-in hybrid. It uses a 2.0-litre four-cylinder turbo petrol engine and a 105kW electric motor to produce a combined 297kW and 640Nm and achieves 0-100km/h in 5.0sec. It offers a claimed 53 kilometres of electric-only driving.
There are four mild-hybrid engine options. The diesels range from a 120kW 2.0-litre four-cylinder to a 220kW six-cylinder. Jaguar Land Rover's new straight-six petrol, which uses a turbocharger and an electric supercharger, also makes its way into the range, with 295kW.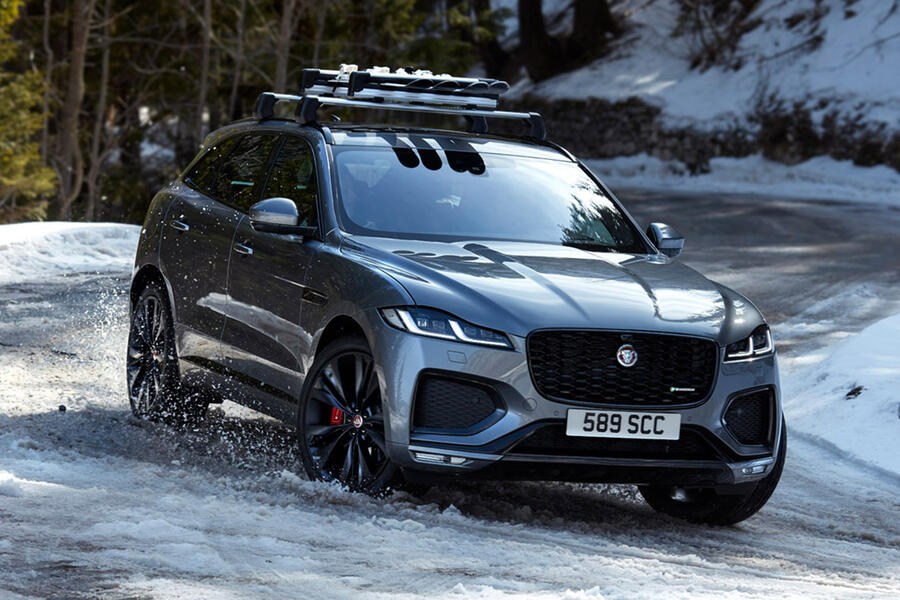 Only one non-electrified model remains: the entry-level 184kW 2.0-litre four-cylinder turbo petrol.
Using the same D7a platform as before, the F-Pace "remains one of the most dynamic SUVs around", Jaguar claims, thanks to chassis tweaks, the passive suspension set-up and configurable dynamics. Jaguar has also tuned the Audi Q5 rival's dampers, springs and anti-roll bars on rougher surfaces for better ride quality.
"We wanted to make the car more luxurious and more refined," said chief product engineer Colin Kirkpatrick.
The revised F-Pace might not look all that different, but the finer details will mark out future models.
Adam Hatton, reflecting on Jaguar design in general, said: "I thought we needed to get a lot better at detailing." To that end, he has created a detail design group. "The new team is led by someone who used to be a watch designer. We have people outside of the car world because the people that buy luxury cars like all luxury products."
One example of such detailing are the graphics on the LED front lights. The Jaguar leaper, present on the side of this new F-Pace, will also appear more in future. That theme continues inside, with a 3D leaper on the headrests. This detail, along with the stitching on the gearshifter, seats inspired by a cricket ball and seat labels that state 'Est. 1936 Jaguar Coventry' will be used in upcoming models.
Such touches are well received globally, said Siobhan Hughes, Jaguar's colour and materials chief designer: "The Britishness is very appealing to other markets. We are trying to build on that."
Rachel Burgess