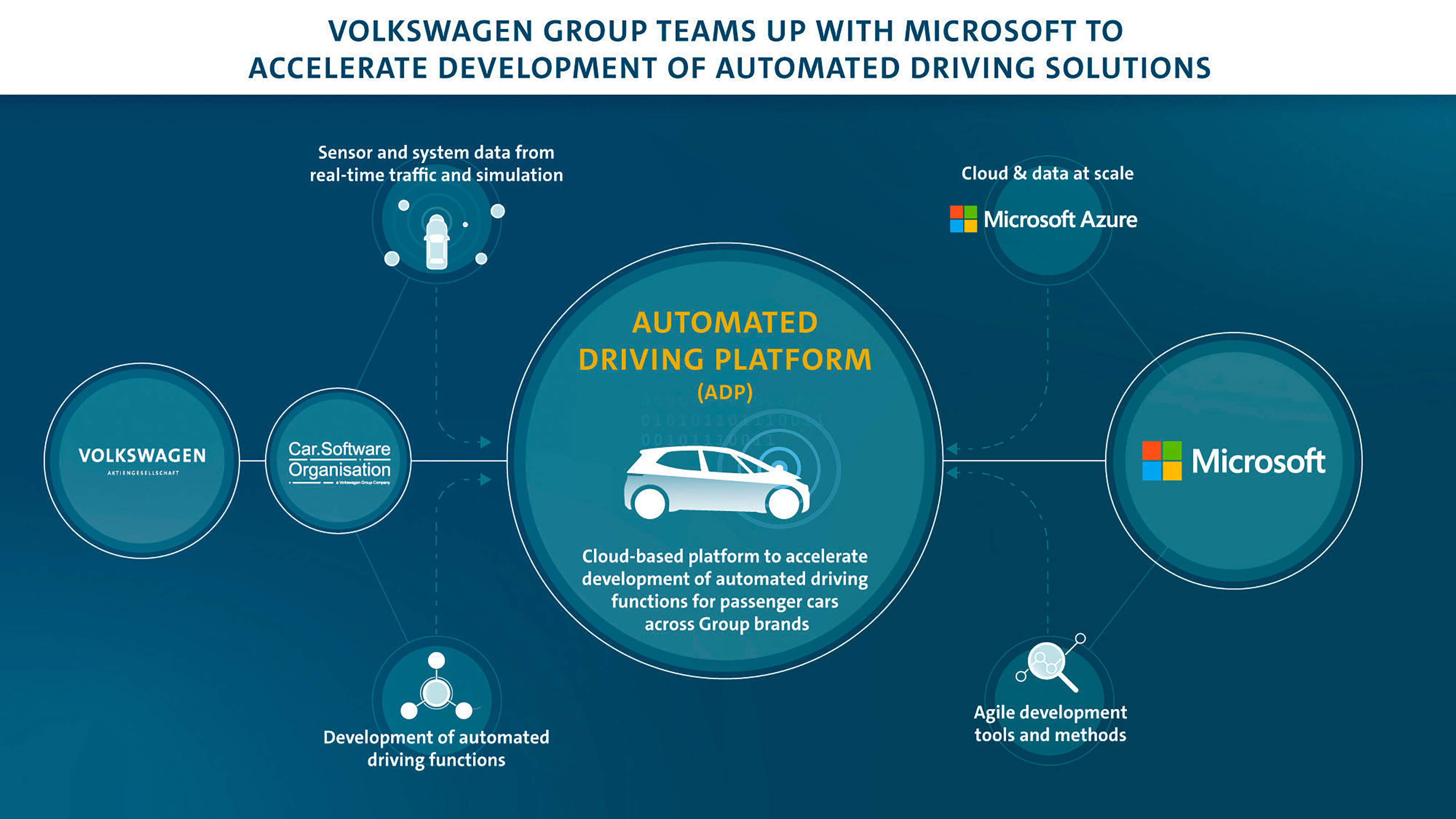 The Volkswagen Group and Microsoft have teamed up in a partnership that will see the two companies jointly develop new autonomous driving technologies.
The VW Group's software company, called Car.Software Organisation, will collaborate with Microsoft to create a "cloud-based Autonomous Driving Platform" that could make developing driver assistance systems easier.
Volkswagen and Microsoft have been working together on the Volkswagen Automotive Cloud since 2018, a system that focuses on integrating digital services, such as over-the-air software updates.
Along with the widening of its partnership with Microsoft to help develop autonomous driving technology, it's part of a pledge from the Volkswagen Group to invest 27 billion euros (AUD$42.5 billion) in digitisation by 2025, increasing the proportion of software developed in house from around 10 per cent today, to 60 per cent.
As the deal with the American computing giant is Group-wide, it will cover other brands such as Skoda, Audi and Porsche.
Volkswagen's Automotive Cloud fleet will start testing this year before a full production roll-out in 2022 and will later integrate the Autonomous Driving Platform, but there's no indication from the brands yet as to when that might happen.
It's no secret Volkswagen has struggled with some software systems in recent times as its first bespoke electric car, the ID.3 family hatchback, was plagued by software bugs in its development, pushing back its release date.
Commenting on the partnership, Dirk Hilgenberg, CEO of the Car.Software Organisation said:
"Microsoft has considerable know-how in the field of scalable cloud services. We benefit from this. Conversely, this platform requires development experience of automated driving functions for series production.
"We are also already working with Microsoft on the Volkswagen Automotive Cloud, which will encompass Volkswagen's digital services and mobility offerings in the future. We are making good progress in this. We want to use this momentum to expand our collaboration."
Sean Carson