Greg Kable drives a showroom-ready ID 3, the electric-powered family hatch to take the EV into the mainstream.
The ID 3 is an electric car in search of mainstream acceptance. The first model from Volkswagen's new ID electric car sub-brand sets out to emulate the feats of the original Beetle and the Golf with a goal incoming Volkswagen brand CEO Ralf Brandstätter says is centred around global sales counted in the "millions per year".
To do this, it'll need to convince buyers to look beyond many accomplished combustion-engined rivals, including the excellent new Golf. However, VW is confident electric cars are set to hit the big time and is in the midst of spending up to AUD$14.6 billion on an extended range of ID models to ensure it is in the thick of the action if and when they begin to take off. The target? Three million electric cars by 2025.
This is the second time we've driven the car that aims to knock the Nissan Leaf from the top of the global electric car sales charts and take electric motoring to the masses. The first was an early camouflaged prototype that gave us a hint of the potential of the ID 3 but it lacked the polish of this production-ready example.
As well as experiencing the ID 3 on public roads, we've put it through its paces at VW's development centre in Wolfsburg – one of the toughest tests any car can undertake, with a combination of banked high-speed test tracks, challenging handling courses, rough road simulations and a large skid pan among other disciplines.
While the ID 3's launch has been delayed by persistent software problems, VW has decided to release the car without various features, including the App Connect function used to run Apple CarPlay and Android Auto. Early adopters will also temporarily go without some functions of the augmented reality head-up display. Both will be restored with a software update as soon as engineers are confident the new car's E3 electrical system is able to reliably support them.
The ID 3 indirectly replaces the earlier e-Golf. It's 23mm shorter, 20mm wider and 96mm taller than the newly introduced Mk8 Golf but its wheelbase is 129mm longer, indicating its greater interior space. It also rolls on much larger wheels, starting at 18-inches in base trim and increasing to 20-inches.
Despite its relative tallness, the aerodynamic properties are quite impressive. Among the wind-cheating measures are aero-optimised wheels, an almost completely enclosed front end, a panel at the end of the bonnet to channel wind more efficiently over the windscreen, substantial cladding along the entire underbody and a large cowl with an integrated spoiler set within the rear window. It all adds up to a Golf-beating Cd of 0.267.
The ID 3 sits on the Volkswagen Group's new MEB platform – a versatile structure that will underpin a wide range of new electric-powered passenger cars and commercial vehicles from VW and its various brands, including Audi and Skoda, as well as pure-electric Ford models as part of a joint venture.
The ID 3 takes the smallest iteration of the MEB platform and all launch models get a rear-mounted electric motor in a layout recalling VW's original Beetle's. Buyers will eventually get the choice of a 110kW or 150kW output, although early First Plus models will have 150kW and 310Nm – all channelled through a fixed-ratio gearbox to the rear wheels. Along with two outputs, buyers will also choose between three battery packs: 48kWh (for a 330-kilometre range), 58kWh (420 kilometres) and 77kWh (550 kilometres).
What's the VW ID 3 like?
VW has taken full advantage of the packaging benefits of the ID 3's electric drivetrain to create an roomy interior with compact MPV-like levels of versatility. It's quite commodious and pleasantly airy throughout, although I'm unconvinced by claims that it offers Passat levels of accommodation. The high floor means you're somewhat perched and the thinly upholstered seats are more upright than those in a conventional combustion-engined hatchback. Boot capacity is also compromised by the packaging of the electric motor at the rear, which gives it a high loading lip, although its 385-litre capacity is 35 litres more than that offered by the latest Golf.
The unique design of the dashboard is simple and uncluttered, with a clear emphasis on functionality and ease of use. Digital instruments are housed within a small free-standing display in front of the driver and the infotainment functions are grouped within a standard 10-inch touchscreen above the central air vents. Most controls – including those on the manually adjustable multi-function steering wheel – are operated via touch-sensitive buttons. As in the latest Golf, so-called sliders are used to control the volume and temperature.
Although the build quality is up to the high standard we expect from VW, the materials are not. There are some agreeable slush-moulded plastic elements atop the dashboard but there is also a lot of hard plastic throughout the cabin. It is a clear cost-cutting move used to help offset the high costs of the battery.
Three ID 3 First models will be sold in left-hand-drive European markets, although it is the mid-level First Plus that will initially be offered elsewhere. Although trim levels are yet to be confirmed, it is set to feature 19-inch alloy wheels, rear tinted windows, a rearview camera and 'dynamic' LED lights as standard.
Press the starter button located on the steering column, at which there is some distant telltale whirring of electronic devices, then twist the gearlever. It operates in two directions: forward to select drive and to alter the brake energy regeneration in so-called Battery mode and backwards to get neutral and reverse. Mounted high on an extension to the instrument display, it has a design and action that are similar to that used by the BMW i3, freeing up space within the centre console for two reasonably sized drink holders and storage bins.
A nudge of the accelerator pedal gets you under way in quite an urgent manner. The sharp tip in response makes the ID 3 feel a lot lighter than its claimed 1,720kg kerb weight suggests, providing it with quite vigorous off-the-line and roll-on acceleration, given its moderate 150kW. VW is yet to issue a claimed 0-100km/h time although Brandstätter points to a time similar to the Golf GTI's, while top speed is limited to 160km/h. The instantaneous torque unleashed by the electric motor shapes the performance, and with a fixed-ratio gearbox, the acceleration is linear and undeviating in its intensity up to motorway speeds, at which a combination of increased rolling resistance and wind-induced drag begin to challenge its otherwise impressive electric propulsion.
In Drive mode, the ID 3 coasts without any perceptible mechanical drag when you lift off the accelerator, rolling on for seemingly impossible distances on flat roads. Rotating the gearlever forward to engage Battery mode summons a regenerative braking function that, in most cases, causes it to pull up all by itself with only an occasional need for the driver to operate the brakes – all the while harvesting kinetic energy, which is then stored in the battery. The action of the brake pedal is quite consistent, with a firm feel that instils confidence as you apply pressure.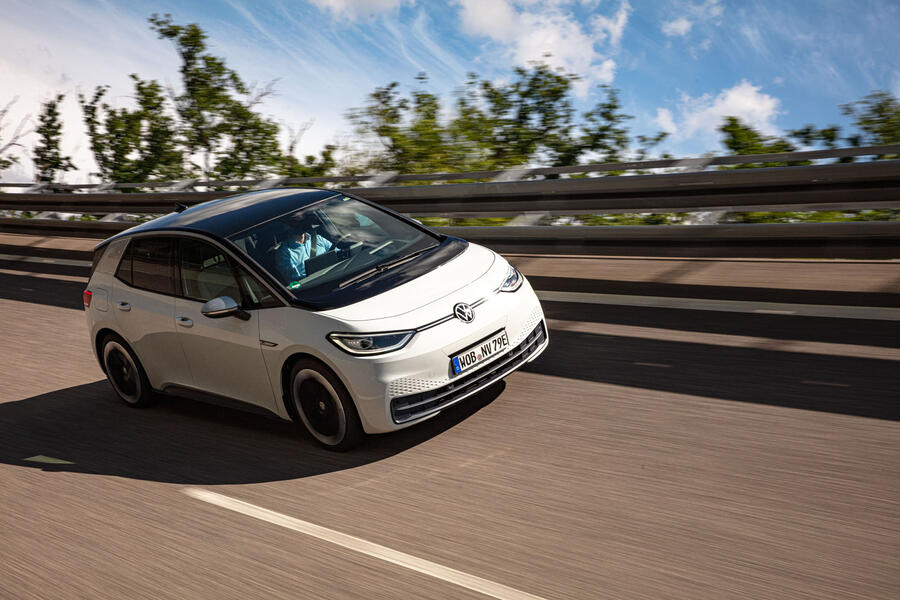 There's a compulsory pedestrian warning dictated by European Union regulations, which automatically switches off above 20km/h. Beyond this, ID 3 is superbly refined, with virtually silent drivetrain properties. As a result, wind and tyre noise are more noticeable than in a combustion-engined equivalent, although both are well suppressed, providing the new VW with outstanding refinement.
One of the key advantages of the ID 3's dedicated electric car platform and rear-mounted motor is the amount of space that has been made available at the front end and, with it, the scope to provide the car with an outstanding 10.2m turning circle. This has a big influence on its dynamics, giving it a wieldy character while ensuring it remains entirely intuitive in more challenging conditions in each of its driving modes: Eco, Comfort, Sport and Individual.
Affordable electric cars don't get much better to drive than this. The ID 3 is terrifically manoeuvrable – more so than the latest Golf – with a tempting eagerness to its actions that allows it to nip into and out of tight spaces and then stop and swivel easily into parking spaces with admirable nimbleness.
At higher speeds, it corners in a nicely predictable, composed manner. The mounting of the electric motor at the rear provides it with a keen balance when hustled along. With its battery housed wholly within the flat floor structure, the new VW has a much lower centre of gravity than conventional combustion-engined hatchbacks.
Despite its considerable weight, body roll is well checked by firm damping. With power going to the rear wheels and that instantaneous torque, there's excellent traction and real punch out of tighter corners without any corruption to the steering, which remains free of drive forces. The variable-ratio steering rack is lightly weighted at low speeds to aid overall manoeuvrability but heft builds nicely as the pace increases, giving it quite a meaty feel when you begin to push on. But while there is an appealing keenness and directness to the action of the electro-mechanical system, it could do with stronger self-centring and greater feedback.
The ID 3 comes with standard passive dampers and 18-inch wheels, although our heavily equipped test car featured optional adaptive dampers and 20-inch wheels shod with 215/45-profile Continental Eco Contact tyres. It was heavily damped and possessed firm rebound qualities but it felt nicely settled, with good absorption on the roads around VW's headquarters in Germany, although it was occasionally caught out by more severe transverse ruts and broken bitumen, which tended to penetrate its otherwise abiding sense of calmness.
Should I buy one?
All of which provide many reasons to buy the ID 3. Still, you'll be going nowhere without regularly replenishing the new VW's energy stores. The model driven here, with the mid-range 58kWh battery, can be charged on an AC system at up to 11kW or with a DC set-up at up to 100kW. VW claims the latter has sufficient electrical energy to provide a range of 290 kilometres within 30 minutes of charging. More meaty models get an even more powerful 125kW option, leading to even more rapid charging times.
If you've decided electric cars are for you – and perhaps even if you haven't – the ID 3 should be on your list for consideration. Its inherent versatility and promised range mean it should be well suited to most daily driving needs, provided you have easy access to electricity. Beyond this, it delivers a fleet-footed driving experience with outstanding manoeuvrability and a polished ride. It's very mature in a typical VW way: an electric car whose substance of engineering is central to its appeal.
Greg Kable
Volkswagen ID 3 specs and price

Price $45,000 (estimated) On sale 2022 Engine Rear-mounted synchronous electric motor Power 150kW Torque 310Nm Gearbox fixed ratio, direct drive Kerb weight 1650kg (estimated) Top speed 160km/h (governed) 0-100km/h tbc Battery 58kWh Range 420 kilometres CO2 0g/km Rivals Hyundai Kona, Nissan Leaf