Volkswagen will introduce three new electric models, with a mid-range Tiguan equivalent, high-tech flagship EV and an entry-level SUV.
Volkswagen is preparing to launch a trio of crucial new electric SUVs under a revised ID model strategy recently implemented by its CEO, Thomas Schäfer.
The three new SUVs have been conceived to provide the German car maker with a broader spread of electric models in key market segments. They will build on the foundations laid by the Volkswagen ID 4 and Volkswagen ID 5 – both of which are set to be upgraded with more powerful electric drivetrain options later this year, prior to receiving a facelift and more contemporary digital interior functions in early 2024.
Included in Volkswagen's electric SUV plans are a pair of big-selling new crossovers – one mid-sized and the other much smaller – both aimed at traditional volume segments, plus a luxurious and highly advanced range-topper that will serve as a halo model for the company's all-EV line-up.
Radical new reinvented Volkswagen Tiguan
The first to arrive will be what insiders at the company refer to as the electric Tiguan. Described as having a more traditional and upright exterior design than the ID 4 and ID 5, it is tentatively planned to be introduced in 2025.
Secrecy surrounds the new model, although it is expected to offer the choice of both rear-wheel drive and four-wheel drive along with a standard five-seat and optional seven-seat interior layout.
The basis for Volkswagen's upcoming mid-range electric SUV is the company's new MEB+ architecture – a further developed version of today's MEB structure announced by Schäfer in 2022.
"The MEB still has a lot of potential. Our goal is to take the platform to the next level," he said. "To achieve this, we are investing substantially in upgrading it. With the MEB+, we will then be in an excellent position for the years to come."
Among the key developments planned for the MEB+ is the adoption of new unified battery cell technology, which, Volkswagen has confirmed, is earmarked to be introduced in 2025. This suggests the electric Tiguan will not be launched before the middle of the decade.
The MEB+ platform will enable higher charging speeds and greater ranges than those achieved by MEB models today, meaning the Tiguan EV will advance beyond the 170kW charging capacity and 520km range offered by the ID 4 Pro's 77kWh battery.
Although there have been suggestions that the electric Tiguan could replace the ID 4 and ID 5, this is denied by Schäfer, who indicates the three models will co-exist alongside each other in an expanded Volkswagen line-up.
"This is the world's largest vehicle segment, which is also home to our popular Tiguan. The new model can complement our ID 4 and ID 5," he said.
A sign of just how advanced Volkswagen's plans for an electric Tiguan are is the confirmation that it will be produced alongside the recently facelifted Volkswagen ID 3 in Germany.
In preparation for the model's arrival, Volkswagen is investing €460 million (AUD$762m) in the transformation and retooling of its Wolfsburg manufacturing headquarters, with work due to be completed by the end of 2025.
Speaking about the plans, Schäfer said: "We are working closely with the works council to bring another electric model based on the MEB+ to Wolfsburg. This will be a high-volume model in the SUV segment."
ID2 spawns entry-level electric SUV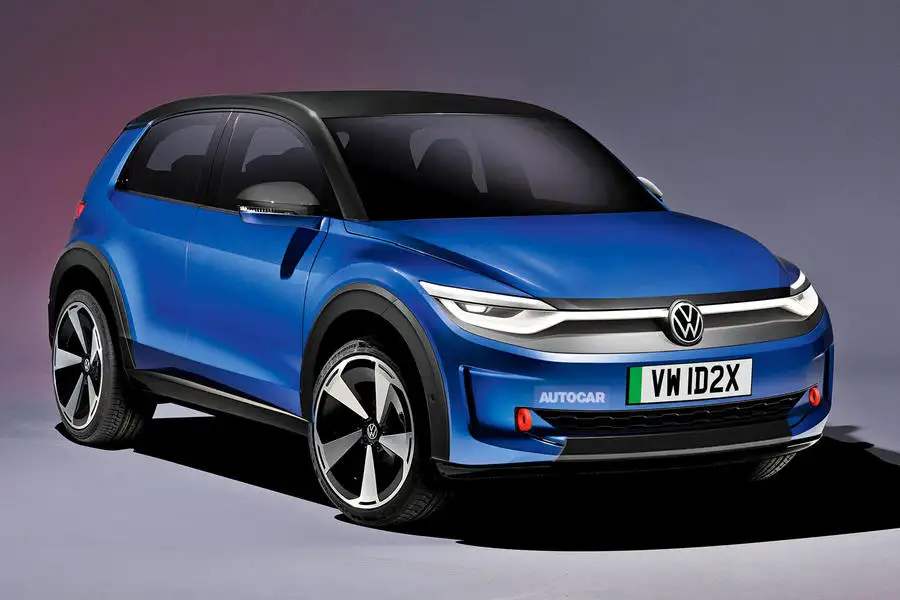 Following the arrival of the electric Tiguan, Volkswagen plans to introduce a new entry-level SUV as an electric alternative to the existing Volkswagen T-Cross.
Closely related to an upcoming new entry-level Skoda SUV and the production version of Cupra's Urban Rebel, the most affordable of Volkswagen's future ID SUV models is tentatively scheduled for launch in 2026, possibly wearing the ID 2X name.
As with the ID 2 hatchback revealed by Volkswagen last month, the compact SUV is set to be offered exclusively with a single-motor, front-wheel-drive configuration. Automotive Daily Network partner Autocar reports that sources say it is also scheduled to adopt Volkswagen's unified cell battery technology with LFP chemistry.
Riding higher and expected to cost slightly more than the ID 2 hatch, which is targeting a $42k base price, the ID 2X is expected to be built alongside its sibling and their Cupra and Skoda equivalents on the new production line that the Volkswagen Group is building near Barcelona for its smallest EVs.
Batteries will be supplied by an associated factory based nearby, in Sagunto, and operated by the company's new PowerCo division.
Volkswagen has already confirmed that the smaller MEB architecture can accommodate batteries of either 38kWh or 56kWh capacity and, so equipped, any ID 2 SUV could reasonably be expected to offer between 290km and 420km of range, based on the supermini's claimed maximum of 450km. The peak charging speed will be 125kW, which will enable a 10-80% top-up time of 20 minutes.
Volkswagen Trinity reborn as tech-focused SUV
The most expensive and advanced of the three new SUVs is already under development at Volkswagen's Braunschweig R&D centre in Germany and is a "premium-market crossover-cum-SUV" that has evolved from the company's troubled Trinity project.
Described as a "technological showcase" for Volkswagen's electric drivetrain and software capabilities, it will occupy a position in the line-up between the existing Tiguan and Touareg.
It will be available with both rear-wheel-drive long-range and dual-motor performance drivetrains, according to Volkswagen sources with knowledge of the company's future model plans. Set for launch in 2028, the new range-topping ID SUV is based on Volkswagen's Scalable Systems Platform (SSP) – a new electric car structure initially engineered under Schäfer's predecessor, Ralf Brandstätter.
Among the developments set to be included on the SSP is a new 800V electric architecture. This will allow Volkswagen's new electric flagship SUV to support charging beyond 350kW as well as bi-directional charging functionality at higher capacities than that offered by today's ID cars.
The SSP is also destined to receive Volkswagen's new unified battery cell technology. Aimed at providing a consistent battery packaging design across all future volume models within the Volkswagen Group, it features a standard prismatic cell design but is claimed to be able to support a number of differing chemistries. These include LFP cells for more affordable models and NMC cells with a high nickel content for premium cars.
Although it's still early days, Schäfer is said to have outlined similar development targets for the new Trinity SUV as those of the saloon originally proposed by Brandstätter in 2021. Among them are a 700km range, level-four autonomous driving capability, and a Cariad-developed software package that will allow buyers to purchase new features and upgrade their car via 5G over-the-air connectivity.
Design details of Volkswagen's future range-topping electric model remain tightly under wraps, but the suggestions are that it could eventually supplant the Chinese-market ID 6 – a 4878mm-long model that offers seating for up to seven in three rows of seats – on sale since 2021.
Produced by Volkswagen's Chinese joint-venture partners FAW and SAIC, the MEB-based ID 6 comes with a dual-motor, four-wheel-drive set-up that develops a combined output of 225kW. It is mated to a 77kWh lithium ion battery that enables a range of up to 450km on China's CLTC test cycle.