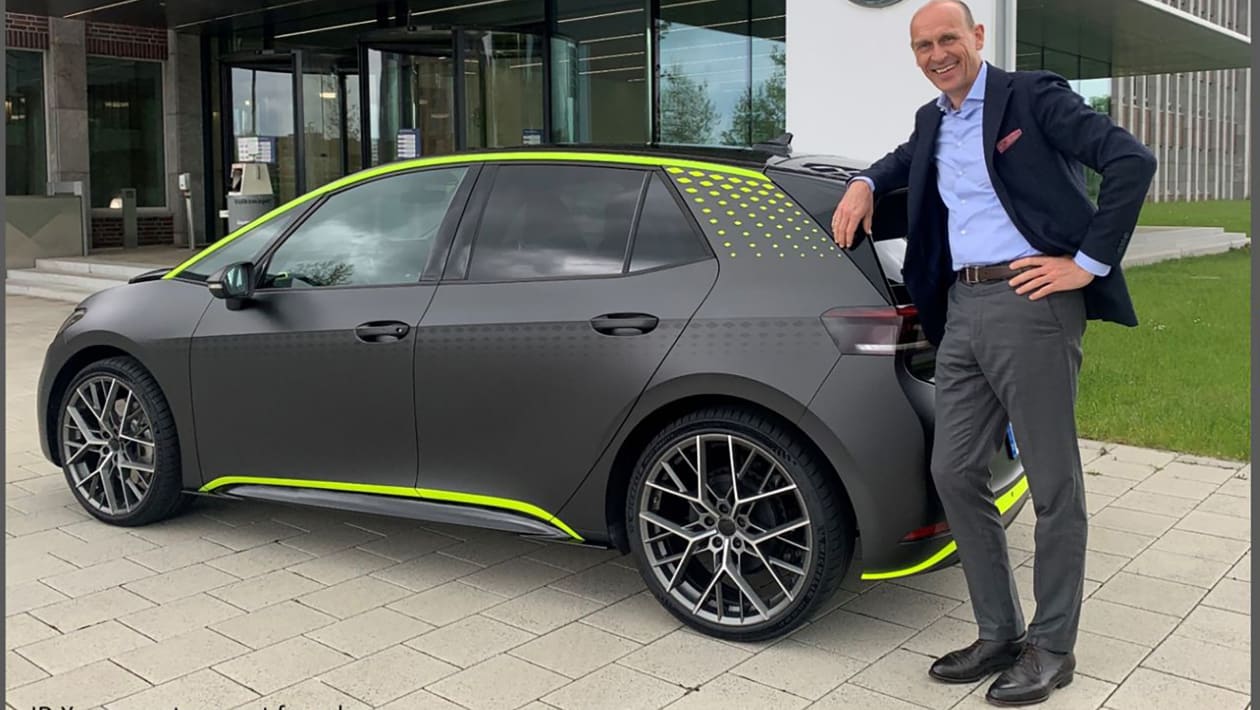 Volkswagen brand CEO Ralf Brandstatter has revealed a surprise new concept car called ID.X, which is our closest indication yet that the brand is weighing up a high performance version of the ID.3 hatchback.
Brandstatter says that the ID.X isn't a direct representation of an upcoming production vehicle, but that Volkswagen will "take up many ideas" from the project, undertaken to prove the versatility of the MEB platform.
In the handful of images revealed by Brandstatter, the ID.X clearly shows far sportier styling than the regular ID.3 hatchback. A fluorescent green theme reinforces this, with new accents on the exterior, headlight signatures and interior trim all finished in the bright colour. Huge new bucket seats occupy the front row, featuring ID.X badging, while the ID.X rides on huge new alloy wheels, too.
Alongside the visual changes, significant revisions have been made to the battery and powertrain system, taken from the new ID.4 GTX. The battery sizes up from 62kWh to 82kWh nominal (77kWh usable), while the electric all-wheel-drive system develops up to 245kW – up from the 220kW of the ID.4 GTX.
Volkswagen has not gone into any details, but claims that weight saving to the tune of 200kg has been achieved compared with other ID. models.
Volkswagen hasn't provided any range figures given the car won't need to be put through WLTP homologation, but Brandstatter has hinted at the new level of performance; 0-100km/h is achieved in 5.3 seconds, while the ID.X also has a drift mode feature, just like on the latest Golf R.
Volkswagen bosses had previously hinted to Automotive Daily that the brand was actively considering a hot version of the ID.3, but for now, the only vehicle to launch under the brand's new GTX umbrella for high-performance electric cars has been a performance version of the ID.4 SUV.
The ID.X concept doesn't just hint at the potential for VW to offer a hot ID.3, however – it is the first ID.3-based model to feature all-wheel drive, something that the brand is yet to offer on production versions of its electric family hatchback.
James Brodie