If you've been anywhere near social media in the past year, you'll know that BMW's design has weathered a fair old storm. In the words of Adrian van Hooydonk, senior vice-president of group design at the Bavarian firm, "it can be brutal".
But if you think that's a hint that van Hooydonk and head of BMW design Domagoj Dukec are about to change their ways, think again. The kidney grille is here to stay.
The reasoning is simple: van Hooydonk and Dukec want BMW to stand out, so they're happy to make it the distinguishing feature. They rationalise it by pointing out that it's part of BMW's past, so it will remain part of the future.
Listening to both men talk about all aspects of BMW's design, it's clear that the 'separator' reasoning is the philosophy behind what they're doing. Dukec justifies it with the amount of noise they've created: "If you want to create something that stands out, it must be distinguished and it has to be different. If you want to reach some customers, you have to stand out. It's not our goal to please everyone in the world, but you have to please your customers."
This, then, is at the heart of what van Hooydonk and Dukec are trying to do – sell cars. "It all comes back to the customer," is how Dukec puts it. It's difficult to argue with the numbers as, Covid-aside, 2020 was a good year for BMW. The group's sales recovered later in the year, with the 686,069 vehicles sold in the final quarter marking a 3.2% increase on the same period in 2019.
Not that it's been easy or without risk. It's the age-old compromise of acknowledging the past but also moving a company forward, a job that's not easy with a back catalogue as long as BMW's. As van Hooydonk is all too aware of. "There is some friction when your old product is so successful, and that's what we're seeing," he says. "If your market success isn't there, then you have to change. That's a very stressful situation as a company. It's better to have this kind of stress [the controversy], even though it would be even better to have market success and universal praise for the changes. But somehow that's rarely the case."
What's clear is that both men feel a huge amount of responsibility towards BMW. Both are well aware of the history of the brand – indeed, they've justified their current strategy by looking back to the 1960s, when BMW pioneered a sports car that came with a healthy dose of limousine. Cars like the 1500, which set the standard for the company for years to come, right up to today.
These days, the fragmentation of what customers want (and Dukec is clear on this: he's aiming for customers to want his cars, not need them) means that van Hooydonk and Dukec have identified two groups they want to appeal to. They've called them the elegant creators and the expressive performers. While it's tempting to dismiss this as marketing hyperbole, it does make sense when you view it in terms of the product. The creators tend to sit in the odd-numbered cars – the traditional 3, 5 and 7 Series – while the performers are the even-numbered buyers, with cars like the M4 or X6.
It boils down to how people will use their cars. As Dukec has it, the creators want a car "more focused on the cabin, but it still has to have a fluid silhouette and nice proportions", while the performers don't want such a practical car. The cabin will be smaller, like a suit that's "not the most comfortable one, but it's the one in which you look the best. They want a car that's almost irrational."
What does all this mean for the cars you'll see in the street? Traditional BMW styling cues, like the kidney grille, quad headlights and Hofmeister kink will remain, but you'll see increasing fragmentation across the range. The sportier models will get vertical grilles and fuller bodies with sculpted surfacing, while electric cars will have a similar treatment to the recently revealed iX.
The grille on that car remains vertical because of all the high-tech equipment, such as autonomous driving sensors, that needs to be positioned in the centre. The saloons, meanwhile, probably won't get a vertical grille or even a big one: Dukec actually used the word "narrow" to describe it. It will depend on the customer and the car's character.
This separation is an entirely deliberate ploy. As van Hooydonk says: "We are expanding the vocabulary of the BMW brand with each new model and we're pulling them further apart. And that's deliberate. We are making them stronger in character without taking the brand apart."
It's interesting what this means for niches, in that they're here to stay. Van Hooydonk adds: "We're broadening the choice we offer our customer. That's the secret of selling more cars. You can't sell more of the same."
Each pillar of BMW has a part to play in this, as van Hooydonk explains: "We've used BMW i to experiment and move the brand forward, and with M we can also do some very pointy cars that are of course geared around performance. For the mother brand, we can take from each of these two sub-brands whatever we feel works."
Van Hooydonk acknowledges that none of this has been easy for the aficionados. "If you have fans, it's fantastic. You have people who don't just buy your products, they love what you do. For them, it's an emotional thing. Of course, if they love what you do, the minute you're going to change it, they might have an issue with that. It comes with the territory," he says. "Our job isn't so easy. We have to debate how much change would be enough because we're living in a world where there are constant new players coming in. If we don't move, we become a sitting duck for all our competitors. [The balance is] to move enough so that the company thrives but not move so much that you lose contact with your fan base altogether."
To keep moving and to keep looking forward is key for van Hooydonk, especially given the competition from start-ups. This means that any BMW worshipper who wants a return to the past is going to be disappointed. Retro is interesting for van Hooydonk, but it's not what he wants. A homage is okay and going down a retro route is fine when you want to relaunch a company (like Renault has done with the electric 5), but "it's not necessary for BMW". In a lovely expression, he says "we will continue the fire but not worship the ashes".
Of course, BMW is no stranger to design controversy. We've been here before with Chris Bangle, and most of the cars he created are now talked about in revered terms – a point highlighted by Dukec. But this time, it somehow feels different. Maybe it's social media and the increasingly entrenched views of the world. Either way, neither Dukec nor van Hooydonk will change the path they're on. It feels like both will be justifying BMW's design direction for a while yet.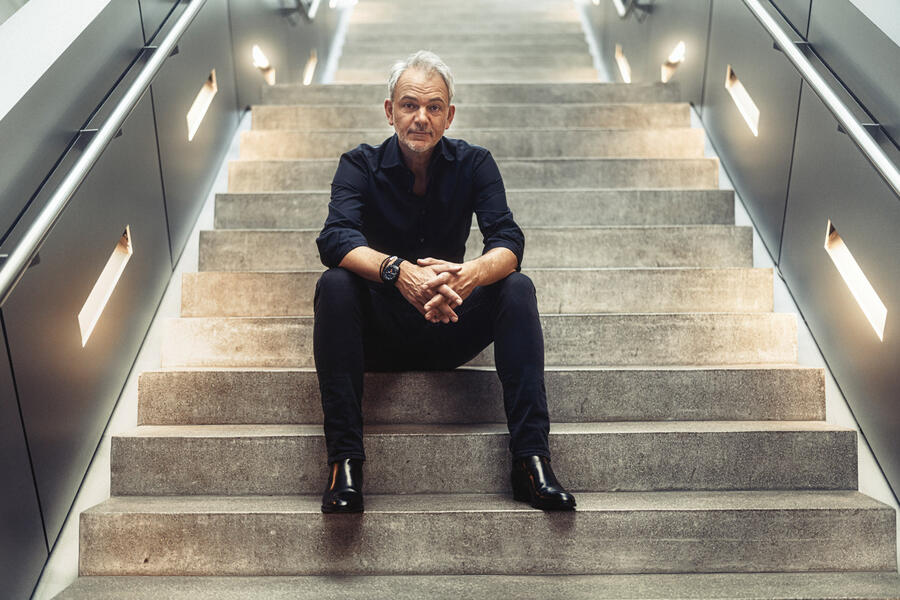 Van Hooydonk on…
Social media criticism
"We deal with it in the same way we do with customer clinics. I never go to those clinics, because the individual comments can be quite brutal. It's not always enjoyable. I wait until the final quantitative evaluation, the global résumé. We look and analyse for trends; I don't look at it [social media] on an hourly basis."
Retro cars
"We have always looked at our heritage and debated about what we could do without ever really going retro. We've done homage cars, like at Villa d'Este, where we've got positive reactions, but it was never a retro design. It was a reimagination of a classic. We take ideas from it, but we never went full bore along that path."
Why Mini is successful
"There's no brand that is so universally loved or understood. In traffic, you can get away with anything when you drive a Mini. Why? Three reasons: it's about an underdog sympathy; there's also something humanesque in the car; and it's a feeling that this isn't a car that controls me. It will make my life more enjoyable."
The Bangle years
For controversy in 2021, read controversy in 2001. That was the year that the fourth-generation BMW 7 Series came out, complete with an accompanying howl of anguish from critics. Remember the boot lid? Of course you do; it's not an easy one to forget. Road test editor Matt Saunders compared it to someone who had left their shirt untucked.
Back then, it was Chris Bangle wielding the design pencils. He was head of design at BMW from 1992 to 2009, but it was in 1999 that he really ramped it up with his new style of 'flame surfacing'. That was the year of the Gran Turismo concept, from where flame surfacing became a 'thing' and BMW's designs only got punchier.
There were hits and misses along the way. The CS1 Concept was a preview of what the 1 Series could look like and hasn't aged well, whereas something like the 2003 5 Series has now almost achieved cult status (helped in no small part by the riotous V10 M5).
Other highlights in terms of concepts were the X-Coupé Concept, a bold foretaste of what a sporty SUV could look like, while the 2009 Gina featured a shape-shifting cloth skin, so its headlights could open and close like eyes. Bangle left shortly after the Gina. Who knows where his mind would have taken BMW next?
Piers Ward