The stretched version of off-roader is huge but packs in greater carrying practicality and retains polish.
Approaching two years into the life cycle of the 'new' Land Rover Defender, the model range has literally expanded a little with the longer Defender 130.
The Defender 130 is the extra-long version of the off-roader-cum-SUV. Decades ago, back in simpler and more innocent times for Land Rover's promotional strategy, it would have been the one that looked most at home in safari-style brochure pictures, with a cut-down roof, tourists standing in the back, and some big game wandering past in the distance. Perhaps even some Zulu tribesmen just at the edge of the frame, if you were really lucky.
Nowadays, however, the 130 is the only Defender to offer more than six seats: two up front, and three in both the second and third rows. It's not available with Land Rover's front-row jump seat, because that would make it a nine-seater and technically a minibus. But with what Land Rover claims are eight adult-appropriate seats at its disposal and nearly 400 litres of luggage volume left over when all are in place, the 130 makes a particularly spacious and practical car in any case, even by the standards of large SUVs.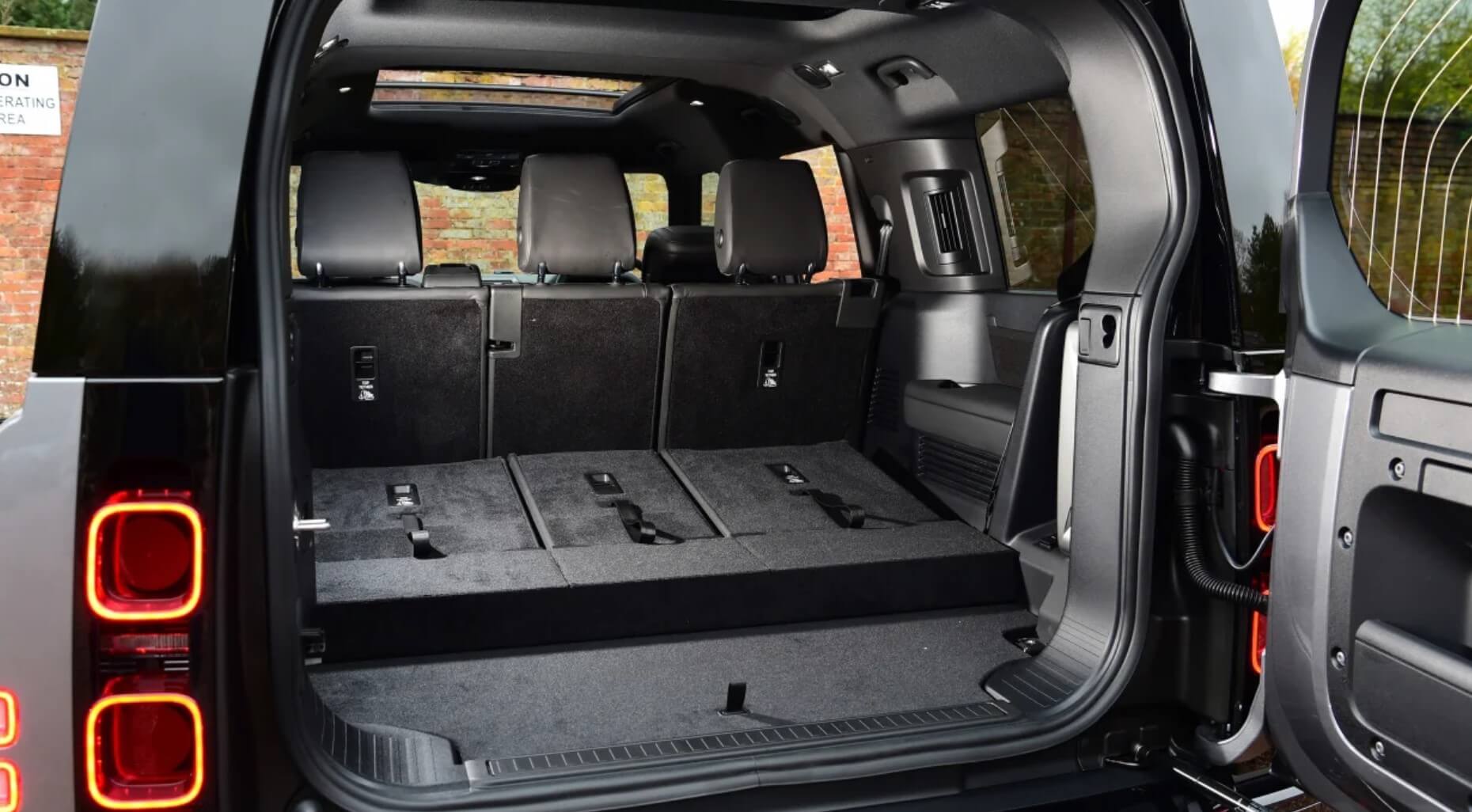 And so it should, frankly, measuring 5358mm in overall length. The car's extra length is concentrated entirely within a rear overhang that has been extended by 600mm, as well as reprofiled slightly to minimise the compromise to the car's departure angle. That means it has the same wheelbase as a Defender 110, and only a slightly larger turning circle.
It has a higher standard equipment level than the 110, however, getting height-adjustable air suspension as standard, which accounts for at least part of the car's relative weight penalty (130s are about 200kg heavier than equivalent 110s). For the moment, engine options are restricted to mild-hybrid six-cylinder petrols and diesels. With the rear-axle packaging associated with Land Rover's P400e plug-in hybrid option, an eight-seat 130 PHEV would be a very long shot.
For the Australian Defender 130 price and specs, that leaves Defender 130 SE D300 starting from $124,150 before on-road costs, and the Defender 130 SE P400 from $131,650. Although orders are open now locally, the model isn't likely to land here until next year, so we've had a first drive of the model in its home country.
Land Rover is on a firm footing in claiming that this is a car big enough for a larger party of adult passengers. While other three-row SUVs offer only child-sized quarters in row three, the Defender's rearmost seats provide decent head room and leg room for two full-sized occupants. Fitting three adults in the third row wouldn't be particularly comfortable, and access to and exit from them is via the usual rigmarole of sliding and folding the second row forwards and squeezing through a pretty small gap – only after you've disturbed anyone travelling in row two, of course.
Still, for bigger families with older kids, the Defender should offer plenty. The outer seats in rows two and three have Isofix child seat points, as does the front passenger seat; both second and third rows fold down 40:20:40, for optimal carrying versatility; and with all the back seats flat, the Defender offers more than 2500 litres of outright storage. It's not quite a van-sized carrying space, but it's not far off.
Our first drive in this new Defender derivative was at and around Land Rover's UK experience centre at Eastnor Castle, Herefordshire. We were driving in a D300 mild-hybrid diesel version of the car in higher-end X-Dynamic HSE trim and took in both on- and off-road test routes.
Off road, the 130 handles and performs much as a Defender 110 does. Although the 110 was already a big car anyway, the common wheelbase means there's no marginal trade-off on agility or manoeuvrability for the extended version. It can feel wide on narrower forest tracks, but visibility is good and the car's extremities are easy enough to gauge; and you can rely on Land Rover's low-range transfer gearing, ground-clearance-boosting air suspension, standard-fit Pirelli mud and sand tyres, and excellent electronic traction, stability and hill descent control systems to make the car haul itself through deep ruts and puddles, up muddy slopes and down steep drops safely – and without troubling its driver to do much more than keep a steady hand on the wheel, and a sensible toe on the accelerator pedal.
That stretched rear end does oblige you to take more care when judging the kinds of deeper holes and obstacles that the Defender 130 might tackle – and even Land Rover's own instructors estimate that, when it comes to the toughest terrain, there are tracks that a Defender 90 could deal with that a 130 couldn't. But, by and large, they reckon that anywhere a Defender 110 would go, a 130 could probably follow.
On the road, Land Rover's well-tuned air suspension reins in the Defender 130's greater size and mass well, and its D300 Ingenium diesel engine also has the torque and refinement to make performance assured and pleasant. We didn't have the opportunity to test the car fully loaded with occupants, in which condition you would doubtless be aware of the extra weight being carried. But, in pretty light-loaded condition at least, it showed little distinguishable compromise to body control or drivability relative to a 110.
The modern Defender drives and handles like a big car with an unusually wide-reaching dual-purpose brief rather than like any remotely 'sporty' utility vehicle. But it handles tidily, intuitively and fairly precisely – and that's true of any version of it, the 130 included. The car's outright size will no doubt be the greatest and most persistent hurdle to its usability. It's only just under two metres in overall height without any roof apparatus (so watch those city centre car park height restrictors, folks) – but more importantly, at nearly 5.4m long, it would be a tough car to fit into most marked parking spaces. This car is longer, even, than some dual-cab utes.
But if you know you've got the physical room for it in your life, and if you need the sheer space and passenger-carrying capacity it provides of course, it could still be the right Defender for you. If you don't, the car's extra bulk probably won't be worth the penalty it imposes, at least at times. An outlier model it may be, but the existence of the 130 really only broadens the reach of the Defender line-up as a whole and underlines the uniqueness of what continues to be one of the most genuinely versatile new cars in the world.
Matt Saunders