Manufacturers work years ahead and while we already know plenty of the new metal coming by 2021, here is a look ahead to 2022 and beyond.
As battery technology improves, it's no surprise to see more and more electric cars with ever-increasing ranges appearing on this list. And it's not just all-new EV models either, with household names such as the Volvo XC90 set to switch to electric power.
Of course, SUVs will still be popular in the future and arguably the most controversial new car of 2022 could be the Ferrari Purosangue SUV.
Aston Martin Valhalla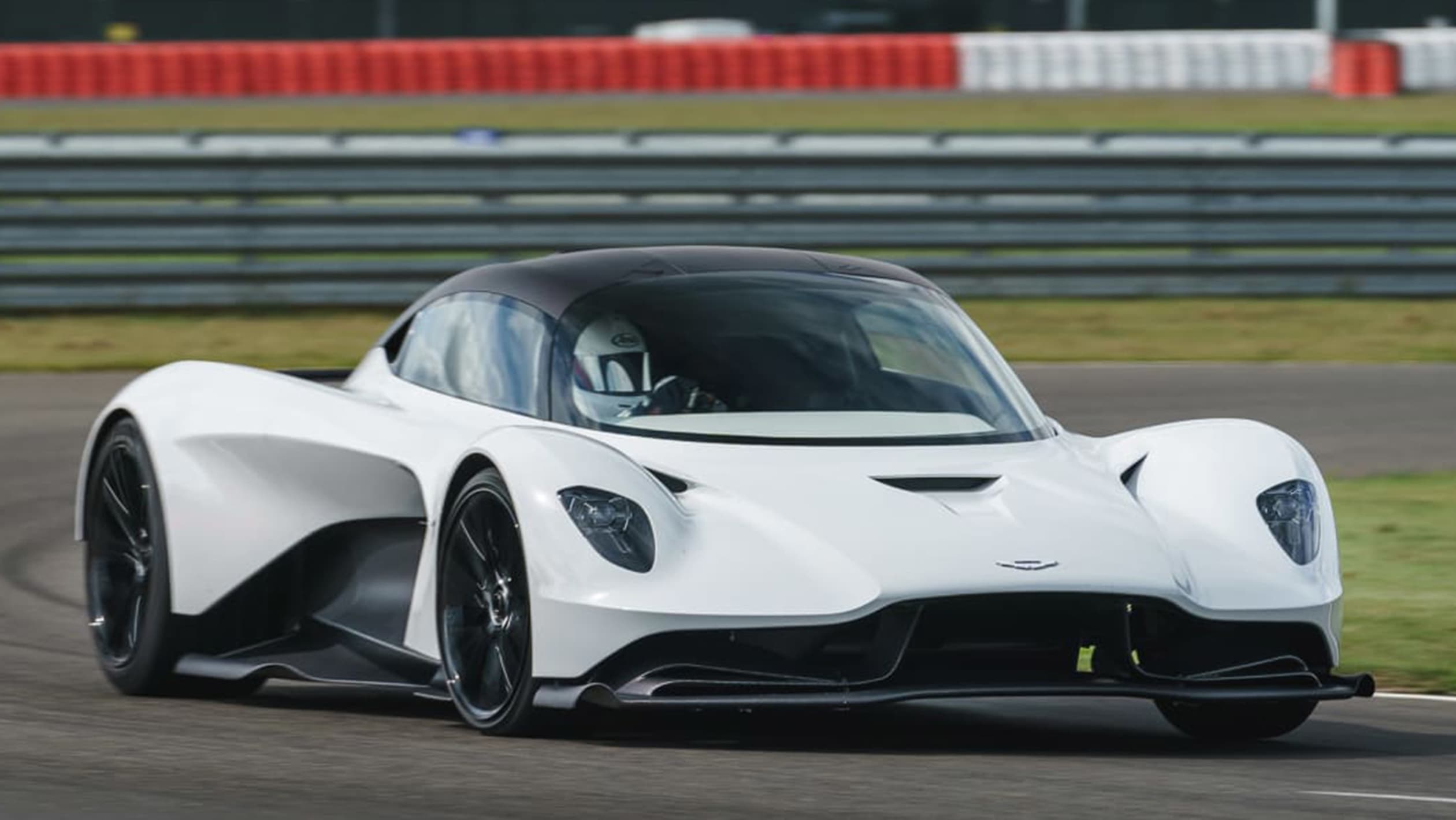 Est. price: $2 million
On sale: 2022
One rung up the ladder from the forthcoming Vanquish is the Valhalla, which will be the second member of Aston's three-car mid-engined range. It'll be larger, more powerful and more focused than the Vanquish, but won't tread on the toes of the lightweight, track-honed, V12-powered Valkyrie.
Designed to compete with the likes of the new Ferrari SF90 Stradale and Lamborghini's successor to the Aventador, it will also use Aston's newly developed 3.0-litre V6. However, it will have hybrid assistance, taking the power output close to 745kW.
Aston Martin Vanquish
Est. price: $500,000 (est)
On sale: 2022
The next Aston Martin Vanquish promises to be a total revolution, transforming from a front-engined GT into a mid-engined supercar. Still at concept stage for now, it has the Ferrari F8 Tributo and McLaren 720S in its sights, and senior sources say the concept is around 85 per cent of what we'll see on the road in 2022.
The reborn Vanquish will sit on a totally new aluminium-bonded platform, and while the brand has come to rely on Mercedes-sourced 4.0-litre V8 engines in recent times, the new model will get an Aston-developed V6 turbocharged engine, mounted behind the cabin and developing in excess of 520kW.
Ferrari Purosangue
Est. price: $400,000
On sale: 2022
Ferrari's upcoming SUV, known as Purosangue, will be the most controversial car in the firm's 91-year history. Our exclusive image gives you an idea of how the finished model could look.  It would use the same platform as the Ferrari Roma, so should have a long bonnet and a cab-rearward design to enable a four-seat layout.
Ferrari is developing a new V6 engine, which could appear in the Purosangue in combination with a plug-in hybrid system. Whichever powertrain the Italian marque decides to fit to its new SUV, one thing is for certain: it needs to be the most convincing SUV to drive.
Fiat Panda
Est. price: From $25,000
On sale: 2022
Fiat will jump into the twenties with a small-car revolution. While the all-electric 500 will be aimed at premium rivals, the Panda will offer a more affordable take on the supermini formula.
As our exclusive image previews, it's set to closely resemble the Centoventi concept, first shown at the 2019 Geneva Motor Show. Expect no-nonsense styling, a boxy body shape, and chunky plastic panels that can be cheaply replaced. FCA's proposed merger with the PSA Group means that the Panda could share a platform with the Peugeot 208, giving scope for petrol, diesel and electric powertrains.
Ineos Grenadier
Est. price: $80,000
On sale: Early 2022
If the new Land Rover Defender has gone a little too posh for you, then the new Ineos Grenadier could be the answer. The company is owned by one of Britain's richest men, Sir Jim Ratcliffe, and the all-new Grenadier is designed to be no-nonsense, go-anywhere transportation.
It's based on a ladder-frame chassis, and will feature beam axles, three locking differentials and a low-range transfer case, while power will come from 3.0-litre six-cylinder engines sourced from BMW. Later down the line, Ineos will also develop a double-cab pick-up version of the Grenadier.
Nissan 400Z
Est. price: $75,000
On sale: Late 2022
A replacement for the aging Nissan 370Z is on the way, only this time it will be a rival for the likes of the Porsche Cayman and Toyota Supra, rather than the Audi TT. The Nissan 400Z will use similar architecture to the Infiniti Q60, a front-engined coupé that can accept a big six-cylinder engine.
Significantly, the Q60's V6 engine can develop up to 300kW, which gives credence to a rumoured 400Z (400hp equivalent) badge for the new Nissan sports car.
Range Rover
Est. price: From $150,000
On sale: 2022 (est)
The styling of the Mk5 Range Rover is set to blend the model's traditionally boxy shape with a Velar-inspired front and rear. It will share JLR's MLA platform with forthcoming crossover and Sport variants, but while it can support full electrification, an EV is unlikely to be offered at launch, meaning the mainstay of the range will be a 3.0-litre six-cylinder mild-hybrid diesel. Standard and long-wheelbase models will be available, the latter giving the option of two rear 'executive' seats.
Land Rover's new dual-processor infotainment set-up, which supports over-the-air updates, will be fitted, following its debut in the Defender.
Tesla Roadster
Est. price: $300,000
On sale: 2022
There's one thing you need to know about the Tesla Roadster; it'll sprint from 0-100km/h in 1.9 seconds. But perhaps even more remarkably, the brand claims a top speed of more than 400km/h and a 950-odd-km range.
It's all made possible by three motors with a combined output of 10,000Nm, and a 200kWh battery – nearly twice the size of any other EV power pack on the market. Despite the truly remarkable performance, Tesla boss Elon Musk promises a regular 2+2 seating layout along with a removable roof panel.
TVR Griffith
Est. price: $180,000
On sale: 2022 (est)
First seen in 2018, the reborn Griffith is going through a difficult birth. The company is currently trying to raise $45million in capital to help get its plans into production.
As such, it's hard to know when the 373kW V8 sports car will arrive. But while TVR claims all 500 Launch Editions are sold, some slots have likely been freed up by buyers who were supposed to get their model last year.
Volkswagen ID. Buzz
Est. price: From $80,000
On sale: 2022
Volkswagen is pushing ahead with its retro-themed ID. model, the ID. Buzz, an indirect successor to the manufacturer's iconic Type 2 Microbus. The firm believes it can use the concept's one-box design to produce a car which can trump the practicality of modern MPVs, while delivering a more desirable image than traditional people carriers.
The ID. Buzz will use a stretched version of the ID.3's MEB platform, allowing a longer wheelbase for greater space and, crucially, a larger battery that can cope with heavier loads and deliver more than 590km of range.
Volvo XC90
Est. price: $100,000
On sale: 2022
Volvo has hit the headlines with its push towards electrification – and one of the standard bearers for this process will be the next XC90, which is due to be revealed in 2021 ahead of sales starting in 2022.
The flagship SUV will switch to the next generation of Volvo's larger platform, called SPA2. It'll ditch the option of diesel power, becoming available as either a plug-in petrol hybrid or a pure-electric vehicle. Other features should include a Google-derived infotainment system with over-the-air updates, and further advancements in self-driving technology.