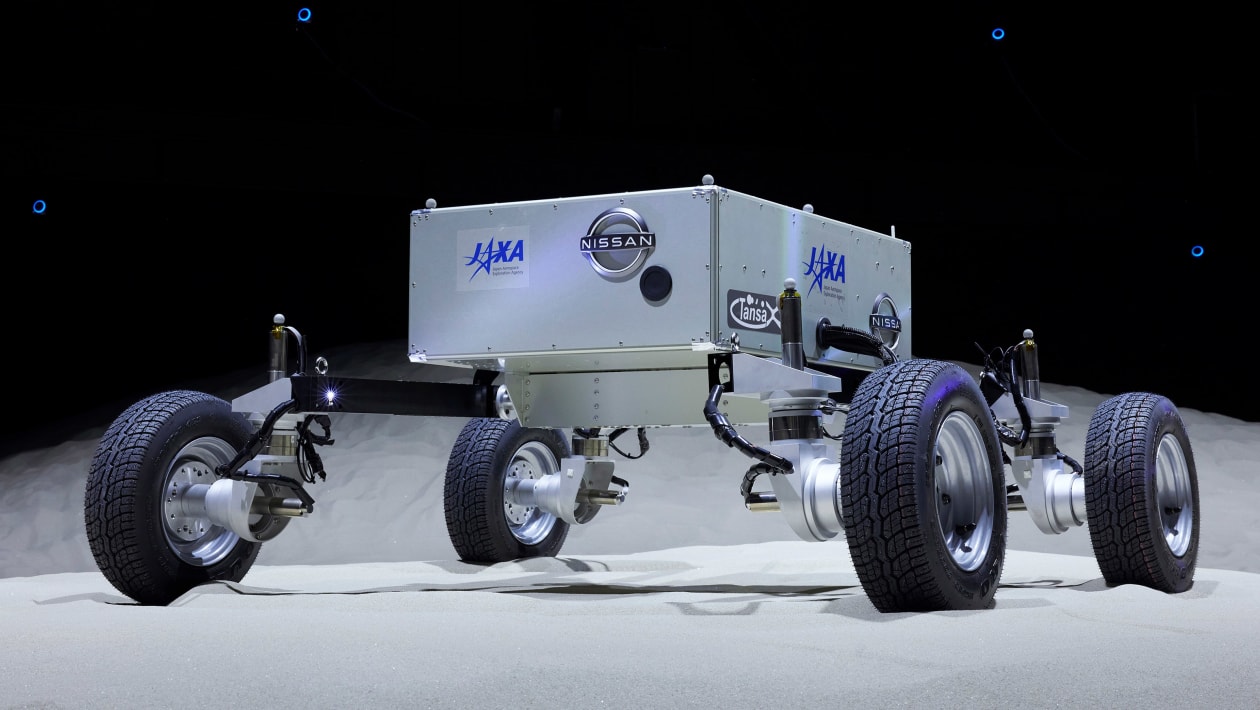 Nissan is broadening its horizons – quite literally. The company has teamed up with the Japan Aerospace Exploration Agency (JAXA) and designed a new lunar rover prototype using the expertise it gathered during the development of the pure-electric Ariya.
Nissan says its lunar rover uses the same e-4ORCE motor control technology as the SUV, which the company claims will give the probe more grip on the moon's slippery surface and allow it to visit as-yet unexplored areas of Earth's closest neighbour.
So, unlike Nissan's more recent Ariya Single Seater Concept, the rover doesn't share its platform with the Ariya SUV, as that would be far too heavy for a space mission. Instead, it just uses a reworked version of the software that controls it.
The software works a little bit like a traction control system, helping to limit wheelspin on slippery surfaces (such as the soft sand-like regolith that covers the moon's surface) and allowing the rover to claw its way up steep hills or over jagged rocks.
For the rover, Nissan has also allowed the e-4ORCE system to control each wheel independently. On the Ariya road car, the system can only control each axle, as the SUV has two electric motors rather than four. Nissan's video demonstrates the system in action.
Toshiyuki Nakajima, Nissan's advanced vehicle engineering chief and head of the e-4ORCE programme, said: "The uses of automobiles and driving situations are wide-ranging.
"We aim for the ultimate driving performance through our research and development, and believe the knowhow gained from this joint research with JAXA will lead to innovations in our vehicles that will bring benefits to customers."
There's no word yet on when Nissan's lunar rover prototype will make the giant leap to the moon's surface. We're not expecting it to get off the ground anytime soon – but JAXA assures us the project will find uses in an upcoming space mission.
Ikkoh Funaki, Director of the JAXA Space Exploration and Innovation Hub Centre, said: "JAXA aims to apply the research results to future space exploration. We are collaborating with companies, universities and research institutes on projects that are feasible and have potential for commercialisation and innovation.
"By conducting research with Nissan, which has expertise in electrified technologies, we hope to apply our findings to the development of higher-performance lunar rovers."
Luke Wilkinson