We jump back into the Rolls-Royce Spectre for a ride-along after its latest testing and development progress.
It's the silence that grabs you. Under hard acceleration, not even a distant whine can be heard from the electric motor driving the front wheels of the new Rolls-Royce Spectre. We're approaching 130km/h and there's a merest sensation of motion from somewhere beneath us, and a faint whoosh from somewhere around the A-pillar. It's almost unnerving.
Jörg Wunder, the engineer leading the project and the man driving us around the Miramas test track in southern France, is pleased, but not satisfied. He acknowledges the wind rush: "It's a seal in the door frame," he says. "We have improvements already identified, and we're going to roll them into the next series of upgrades."
The sensation of motion, meanwhile, is there on purpose; it is, in effect, the noise designed to disguise the absence of noise. Rolls-Royce engineers have created channels where air can flow between the battery pack and the sills, allowing a controlled amount of 'motion sensation' to be generated. It's inaudible when you're pulling away; at higher speeds, it could well be the only thing preventing the person at the wheel from having no sense of speed at all.
We've come to Miramas to get an early taste of the Spectre, and you can tell from the pictures here that it is still a work in progress. The car has not yet been revealed in full (though potential customers have been shown a mock-up at Rolls's Goodwood HQ), and as we join the engineers, Rolls's first production EV is still only around 40 per cent of the way along its journey from the first engineering mule to the assembly line. Just 38 Spectres exist and they're all in use, helping a push towards Rolls-Royce's stated goal of 2.5 million kilometres of testing.
Each of the cars has a specific role – an area where its progress is more focused, such as powertrain, safety, or chassis. The vehicle assigned to us today, the 11th prototype made, is devoted to durability, so while its software is up to date, some of the hardware is ready for replacement. You could call it a bit creaky – except that it isn't.
Rolls sends cars to this region for a few reasons – but not, it transpires, the 40-degree climate. Genuine hot-weather testing takes place in Death Valley or South Africa, but Provence appeals because of the consistency offered by the test track. More important still are the spidery ribbons of asphalt beyond of the facility's concrete walls – a "library of evaluation roads", according to Rolls-Royce's Director of Engineering Mihiar Ayoubi. They are key routes for matching where clients like to drive their cars, and their surfaces are far less polished and predictable than those at Miramas – so making any model work on them is seen as a key achievement.
We're not being told too many specifics today – partly because Rolls-Royce wants to keep some of its powder dry, but also because some of the details aren't even defined yet. However, we know that Spectre sits on a new bespoke architecture, and that its construction has an overall torsional rigidity that is more than 30 per cent greater than that of the Ghost. The new EV's battery will weigh 700kg on its own, and it will be the largest in the BMW Group, so that means it has to have more than the 105kWh usable capacity of the iX SUV.
The car is four-wheel drive, and its coupé shape delivers a drag coefficient of 0.25. It sits on 23-inch wheels, the largest ever fitted to a Rolls-Royce and the biggest on any coupé since the Bugatti Royale back in 1926. The alloys on the prototype are chosen for consistency – they allow the engineers to then experiment with tyres and accurately document changes – and Wunder says they're still experimenting with the rubber, playing with the compromises in ride quality, noise, grip and efficiency.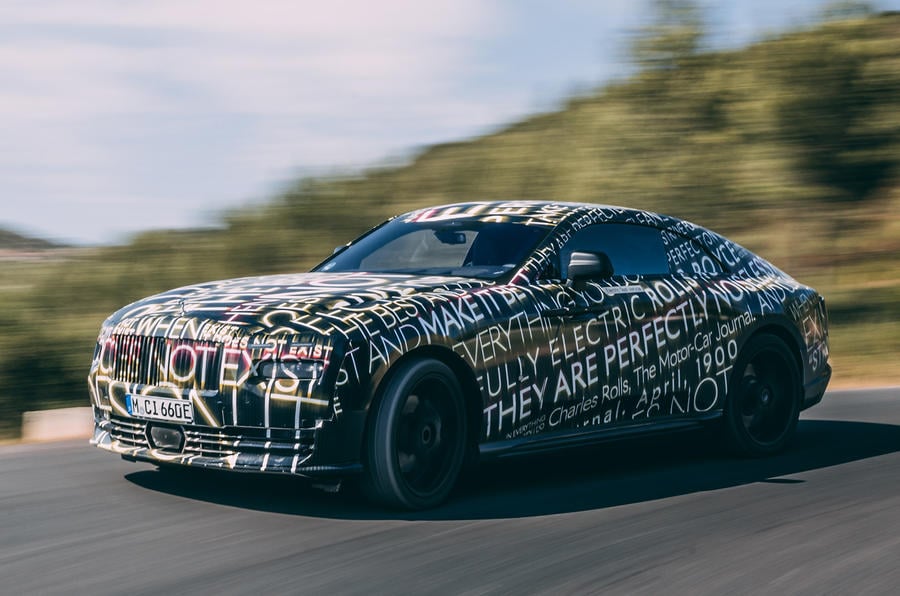 With the Spectre parked up in front of us under the baking Miramas sun, we're able to take a good look at what these numbers mean in the metal. This is an imposing four-seater coupé – bigger inside, apparently, than the Wraith – with a short front overhang and an enormous fastback deck that seems to go on forever. The car's wrap cloaks the details so while we can glimpse core Rolls design cues in the headlights and grille, the finer elements – how they might be different to reflect the car's zero-emissions powertrain – are still unclear. Even so, the sheer scale of the thing – and the aforementioned battery capacity – makes us wonder about its weight; it must surely be well north of 2.5 tonnes.
Ayoubi and David Monks, Spectre's Production Project Leader, just smile in polite refusal when we ask them for further info on this. But we do glean a few of the ways in which they aim to make Spectre a Rolls-Royce first, and an EV second. Monks is obsessed with core elements like brake pedal feel, that always-tricky transition from energy regeneration to regular discs and pads. He says they've found a solution whereby hydraulic pressure is used initially, then fed off to a reservoir to allow as much energy to be harvested as possible. This, he argues, will help clients to drive their cars with the smoothness befitting of the brand.
Spectre won't have multiple settings for brake energy recuperation, a traditional EV feature. Instead, the car will use multiple parameters – everything from GPS data on the road type to the radar looking at the traffic ahead – and constantly adjust the aggression of its regen accordingly. "We don't think the clients would want to have to flick between settings for this," Monks says, "and we're optimistic that they won't really notice much change between those situations. The overall goal is to not give them any nasty surprises." A single-pedal mode will be included, though, and accessed via the steering-column stalk that's normally used to force the combustion-engined models into first gear.
The overriding view of our brief track ride is that whatever the Spectre does weigh, it does a good job of disguising it. There's commendable pick-up from a standstill and plenty of shove mid-corner. We're not talking the kidney-squeezing force of a Porsche Taycan or Tesla Model S in their respective performance modes – but suffice it to say that the Spectre already feels well on the way to delivering that old Rolls-Royce mantra of effortless pace.
Provence is sizzling by the time we jump in alongside Wunder for some afternoon kays on country roads. Our starting point is relatively remote, with only the occasional erratically driven Citroen van for comfort – well, that and several BMW prototypes parked up in shady laybys.
With the rear-hinged door open, we slide into the seat, noticing that the floor is raised only very slightly and that even with acres of black fabric draped over the dashboard, the overall construction makes you feel cocooned in the cabin. As we set off, Wunder remembers well the first time that he sat in a Spectre prototype – a car that, ultimately, now shoulders the long-term ambitions of this company. "It was an emotional moment," he recalls. "Pressing the start button and then not hearing anything – when even with the V12, there is something – just made me realise how well suited this all is to the brand."
Our progress is much slower here than at Miramas – more in tune, you might say, with everyday use. Again, the Spectre feels freakishly refined, and size notwithstanding, it looks relaxing to drive. It even corners surprisingly flat – a trait that we'd also noticed on the test track – although all of the engineers seem convinced that this car remains a teeny bit too firm. Wunder is confident that a forthcoming change of damper spec will move #11 closer to the 'magic carpet ride', though from the passenger seat, it feels tantalisingly close to it already.
Some of the stats involved in this car are staggering. Key parts of the Spectre's hardware are given enough independence and processing power to make decisions on their own, to help speed up reactions. Yet these domains also report into a central software set-up, and interact with each other when they're required – such as, for example, dynamic control systems and safety.
All told, there are 1000 functions and 25,000 sub-functions across the vehicle, and more than 140,000 opportunities for these to send or receive data – around three times the figure of any previous Rolls. Small wonder that Monks says his previous data logger set-up proved inadequate for this project. "We're talking terrabytes of data," he tells us. "Data loggers had been getting smaller over the past decade; now we've had to go up in size again, just to get enough processing power and storage capacity."
More than a million kilometres of testing still remain before the first Spectre will roll down the line at Goodwood. But the insistence of people like Wunder that the car is currently good but not perfect – and the quest to find that higher level – leave us impressed by not only the commitment to the cause, but also the engineering nous that's being applied to it. Rolls says Spectre is the most significant car it has introduced since its first vehicle back in 1904; if it continues this path, it could be every bit of it – potentially the purest ever distillation of the company's values.
John McIlroy