Seven-seat prototype promises stiff competition for the likes of the BMW iX and Tesla Model X.
Mercedes-Benz not only provided a near-to-production-ready prototype of the new EQE sedan for us to drive during digital system development testing in Sweden last week, its engineering team also brought along an even bigger surprise in the form of prototype of its upcoming EQS 4Matic SUV.
Set to launch by the end of 2022, the plush seven seater is the third EQ model to be based on the German car maker's dedicated EVA2 platform. It is also the first to hail from its plant in Tuscaloosa, USA, where it will be produced alongside the smaller but heavily related EQE SUV due out in 2023.
Stretching to well over 5200mm in length, the EQS SUV occupies the territory at the very top of Mercedes-Benz's EQ line-up and is also planned to form the basis of an even more luxurious Mercedes-Maybach variant that will compete against the upcoming electric powered Roll-Royce Spectre by the middle of the decade.
As it wore extensive disguise, there's obviously not a lot we can tell you about the styling of the EQS SUV that you probably won't have already gleaned from the photographs here. In line with its positioning, though, we can reveal it is longer, wider and a good deal higher than the already substantially sized EQS sedan, with which it not only shares its platform but also its electric drivelines, interior architecture and a whole lot more.
The proportions of the big electric SUV are quite a bit different to Mercedes-Benz's more traditional combustion engine SUV models, with a significantly shorter bonnet, longer wheelbase accommodating a large cabin and relatively short rear overhang.
"It's not a conversion design," says Holger Enzmann, head of vehicle integration for models based on Mercedes-Benzs EVA2 platform, suggesting it hasn't just been adapted from a combustion engine model, as is the case with the smaller GLC based EQC SUV. "Rather, it has been developed from the ground up without the compromises you eventually run into when backing onto an existing platform."
Characteristic exterior cues such as the black panel grille, fixed clamshell bonnet and a window bottle port within the front left hand flank provide direct design links to the upmarket five-door liftback-cum-saloon. It does include new elements, though, including running boards underneath its big doors, which unlike the openings of the EQS and EQE feature a framed design. The running boards are claimed to improve aerodynamic efficiency by providing a smooth flow of air down the side of the body.
The prototype we got to drive out on the ice of Mercedes-Benz's test facility wore 21-inch wheels, though we're told the EQS SUV will also offer even larger 22-inch rims when sales begin in the second half of the year.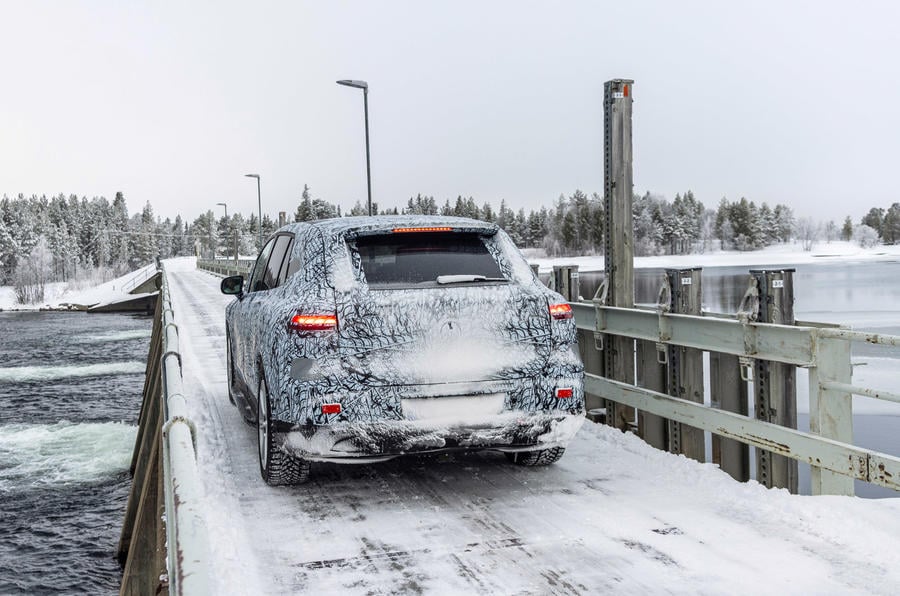 Eventually, there will be up to five different EQS SUV models, including two from Mercedes-Benz's AMG performance car skunkworks. The prototype we got to drive was an EQS580 SUV model, which Mercedes-Benz says will boast slightly more power and torque than the EQS580 sedan, whose dual motor driveline kicks out a sturdy 385kW and 855Nm of torque. The increase, says Enzmann, is to compensate for the increase in weight, which is expected to nudge 2600kg.
Inside, there is a high-set dashboard offering the same choice of either separate instrument and infotainment displays or an integral Hyperscreen unit that stretches the width of the dashboard. You sit 80mm higher than in the EQS sedan, with a very commanding view forward within a generously dimensioned and fittingly upmarket cabin with outstanding legroom for second seat row occupants.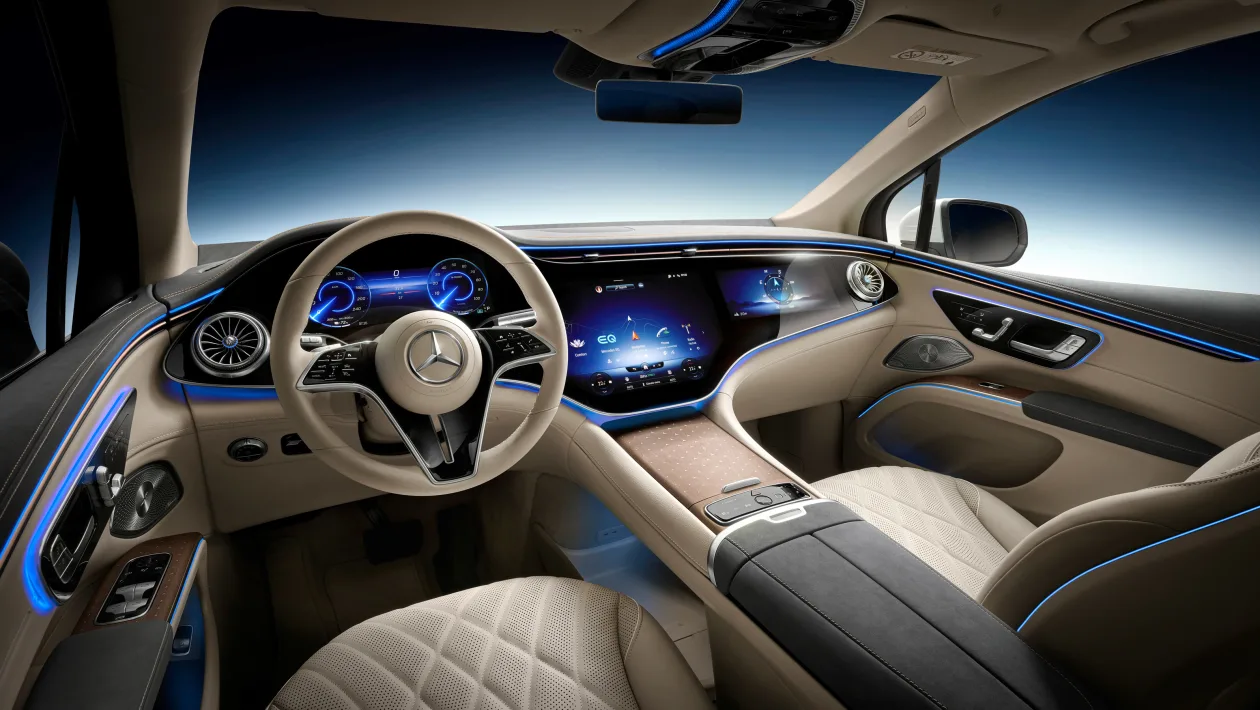 Predictably, the EQS SUV offers strong performance, even on the icy surface of Mercedes-Benz's cold weather testing facility. It is silent off the mark, but also extremely urgent and terrifically smooth, too.
A determined stab of the throttle pins you back within the broad expanse of the driver's seat as the generous torque reserves are deployed individually to each wheel via a single speed transmission and electronic all-wheel drive system providing so-called Torque Split qualities for outstanding traction and drive off the line. Nothing's official at this stage, but we'd expect the EQS580 SUV to post a 0-100km/h time of under 4.5sec in Sport – one of four different driving modes, including a dedicated off-road setting that will feature on both of Mercedes-Benz's new upcoming electric-powered SUVs.
There's also solid roll-on acceleration; the EQS580 SUV gathered pace rapidly on the long snow-strewn straights of the Mercedes-Benz test track, displaying similarly impressive stability as the EQS sedan despite its larger frontal area and greater ride height. There's an underling effortless to its overall operation.
With its large battery mounted within its platform, the EQS SUV also corners in a very lively manner, changing directly very smartly and with great response for such a large car with raised ride height and such a heavy battery.
It remains very collected when hustled down an icy handling road at speed with a full complement of passengers. The advanced air suspension allows a small degree of body roll, but builds in a progressive manner and is ultimately very well controlled.
At this stage of development, it already feels very sure-footed. You never lose sense of outright size and weight. However, the brisk reactions and the ability of its various electronic systems to react quickly to any given driving situation endow the EQS SUV with agreeably dependable yet spirited handling traits.
Interestingly, Mercedes-Benz has forgone electrically operated anti-roll bars to control body movement. Instead, it uses the air springs to provide resistance to lean, with two different levels of ride height depending on speed and driving mode.
One of the keys to its spirited handling is Mercedes-Benz's Rear Axle Steering. As in the EQS sedan, it generates up to 10 degrees of steering angle at the rear, contributing to all round manouvrability and agility.
It will be a few months before we get to drive EQS SUV on public roads, but our brief encounter with a prototype of the new seven-seat model on the frozen surface of Mercedes-Benz's winter testing facility has taught that performance and dynamic finesse will be among its more strong attributes. Benefiting from the development that has already gone into the EQS and EQE sedans, it promises to provide stiff competition to the likes of the BMW iX and Tesla Model X.
Automotive Daily