From Audi to Tesla, here are our top picks of the most luxurious fully electric cars to buy in 2021-22.
Electric cars are now coming to the masses, with the introduction of sub-$50k EVs from brands like MG and Hyundai. At the same time, there are now more and more electric options for the more discerning driver than before – where previously there was the Tesla Model S and little else.
Now, numerous premium and prestigious carmakers' flagship models feature electric power, and even more brands including Rolls-Royce, Bentley and Aston Martin are working on zero-emission models. Start-up companies like Rivian and Lucid are also tailoring their cars for luxury rather than the mass market.
So, while we await the arrival of the electric Rolls-Royce Spectre, Lucid Air and Polestar 5, here are our picks for the best luxury electric cars you can buy right now…
Audi e-tron
On sale: Now
The e-tron was Audi's first electric production car, and if it looks familiar, that's because it's closely based on the existing Q5 and Q7 SUVs. On the road, it's extremely refined, if not the best handling electric SUV, although the cabin will make up for that shortcoming for many: the e-tron fuses the latest technology with the superb interior quality the brand is known for.
Power comes from electric motors on the front and rear axles, giving four-wheel drive and 222kW – rising to 296kW if you use the boost function that gives an eight-second burst of acceleration.This results in a 0-100km/h time of 5.7 seconds. The e-tron is capable of 150kW charging and has an official range of up to 417km.
You can read our full review here.
Audi e-tron GT
On sale: Early 2022
While SUVs are big business for Audi, the brand is also known for its athletic sedans, and the e-tron GT is its first zero-emissions four-door. The low-slung coupe focuses on performance and driver enjoyment, while also packing typical Audi technology and build quality. It can also cover nearly 480km on a charge, and topping up from 10-80 per cent can take as little as 21 minutes thanks to a maximum charging speed of 270kW.
It has a lot in common with the Porsche Taycan, however the Audi is more relaxing than the Porsche. Overall, the e-tron GT is great to drive, has a fantastic interior, boatloads of technology and is really comfortable, making it undeniably one of the most exciting electric cars on the market right now.
See our special feature to find all of the details and check out our full review of the e-tron GT.
BMW iX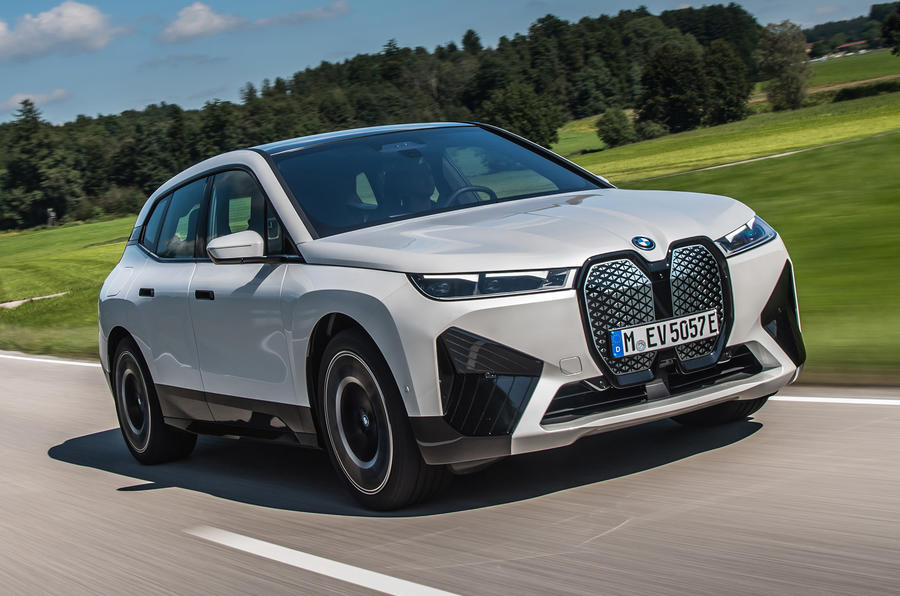 On sale: Q4 2021
The BMW iX is the German brand's flagship electric SUV and a direct rival to other entries on this list like the Audi e-tron and Tesla Model X. Like many of BMW's latest models, its styling is undeniably distinctive. Thankfully, it also stands out due to the way it drives, its rapid-charging capability, its on-board technology, its interior quality and the amount of cabin space it offers.
Two versions of the iX are available: the 'entry-level' xDrive40 produces 240kW and can cover up to 425km on a charge thanks to its 71kWh battery. The top-of-the-range xDrive50 pumps out 385kW and features a much larger 105.2kWh battery for a 630km range.
You can read our BMW iX review here.
BMW iX3
On sale: Q4 2021
The iX isn't BMW's first electric SUV, as the more accessible but still luxurious iX3 is the brand's rival to the Audi Q4 e-tron, Mercedes EQA and even the Tesla Model Y. It's not the most exciting, nor the most powerful, electric SUV around, but it's practical, well built and feels upmarket inside. Plus, BMW updated the iX3 even before it even arrives in Australia, so it matches the latest version of the X3 it's based on in terms of styling.
It features plenty of toys, offers a decent real-world range of 460km from the 80kWh battery, and a pleasant – engaging, even – driving experience.
You can read our review of the iX3 here.
Jaguar I-Pace
On sale: Now
It was launched back in 2018, but the I-Pace's dynamic driving experience remains the benchmark for luxury electric cars. It's playful and agile, making it one of the most enjoyable electric cars to drive. Its styling, too, is a radical departure for the sporty SUV market, while the interior is every bit as slick as the exterior.
Performance is strong, with 291kW from an electric motor on each axle. Acceleration from 0-100km/h takes 4.8 seconds, while the top speed is limited to 200km/h. A 90kWh battery gives an official range of 470km, but expect closer to 370km in the real world.
You can read our latest Jaguar I-Pace review here.
Mercedes-Benz EQC
On sale: Now
Mercedes is on an electrification mission, with a slew of zero-emissions models headed our way in the near future. The first member of the brand's 'EQ' range focuses on comfort above most other things. It's superbly smooth and refined on the road; those traits are combined with an elegant interior and high-tech infotainment.
Like the BMW iX above, it features love-it-or-hate-it styling, but we think the Mercedes is more striking. Its 80kWh battery gives it a range of 430km and with 110kW charging capability, it can go from a 20-80 per cent charge in around 25 minutes. While it's engineered more for comfort than fun, with 300kW and 765Nm of torque, it'll hit 100km/h from rest in 5.1 seconds.
Mercedes-Benz EQS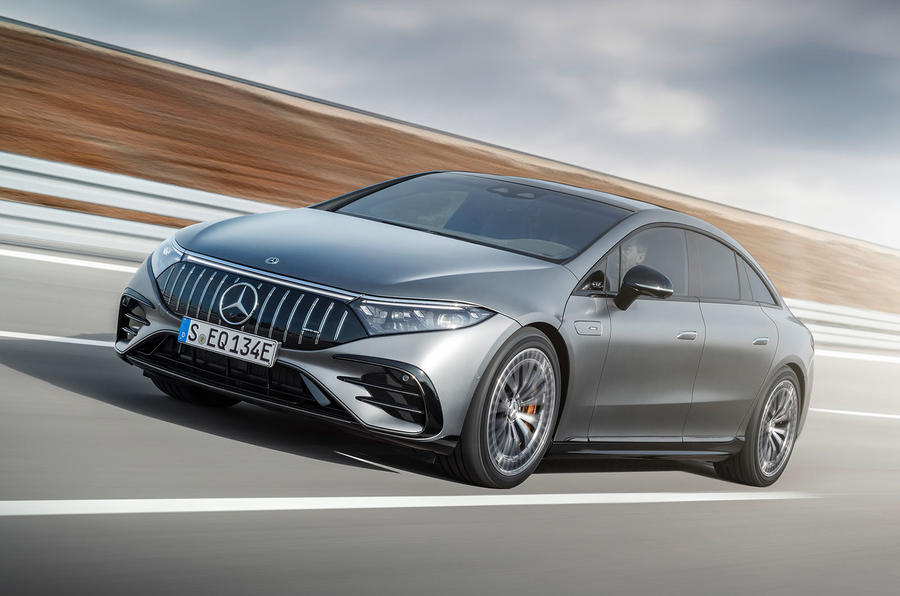 On sale: Early 2022
The Mercedes EQS is the German brand's electric flagship, with sights set squarely on the Tesla Model S, Audi e-tron GT and Porsche Taycan. When it comes to interior quality and on-board technology, the EQS doesn't disappoint, especially when fitted with the eye-catching 1.41-metre-wide 'Hyperscreen' infotainment setup.
Surprisingly, ride comfort isn't on the same level as the brand's own S-Class, but the car does boast a hugely impressive range of up to 720km.
You can read our review of the Mercedes-Benz EQS here.
Porsche Taycan
On sale: Now
It's very expensive, but the Porsche Taycan is also one of the best electric cars yet. Porsche's first fully electric offering features a 93kWh battery and is available in four guises: Taycan, 4S, Turbo and range-topping Turbo S – and there's a Cross Turismo wagon coming, too. With 490kW, the Turbo will hit 100km/h from rest in 3.2 seconds and has a top speed of 260km/h, but the Turbo S has even that beat, with 560kW helping it to 100km/h in an awe-inspiring 2.8 seconds.
As you'd expect from a Porsche, the Taycan's handling is sublime. As for range, it'll hit up to 464km. Like its Audi e-tron GT sister car, the Taycan is capable of 270kW rapid charging, although you may struggle to find a public charging point fast enough to take advantage of that. If you do, you can top up the Taycan's battery from 10-80 per cent in 23 minutes.
You can read our full review of the Taycan here, as well as our road test of the Cross Turismo wagon, too.
Tesla Model S
On sale: Now
The Tesla Model S has been around for a few years now, but it's still the luxury electric car every brand is gunning for. To ensure it remains competitive against newcomers from Audi, Mercedes and Porsche, Tesla has updated the Model S for 2022. The new Long Range model will reportedly be able to cover over 640km on a charge, while the performance-oriented Plaid will produce over 750kW for a sub-two second 0-100km/h time.
The previous generations of Model S we've driven have felt spacious and luxurious, but we have a few concerns about fit and finish, which isn't up to the same standard of some of the other entries on this list. Yet the Model S' performance and range figures are so good that it's easy to overlook these issues.
Tesla Model X
On sale: Now
The Model X is Tesla's luxurious sports SUV, but beneath the sci-fi styling is a car that's very practical and spacious, with up to seven seats and both front and rear luggage compartments. Yet despite its size and weight – the Model X weighs 2300kg – it goes like a rocket. Acceleration from 0-100km/h takes just 2.5 seconds in the new Plaid version that'll arrive in Australia in 2022, which also has a 547km range.
Meanwhile, the Long Range version has a range of 580km and can go from 0-100km/h in 3.8 seconds. Like the Model S, there are some quality issues, but the Model X is still a luxurious and desirable car.
Ellis Hyde